Looking to Party with A Great DJ In Houston?
For the Best Wedding DJ in Houston, you've come to the right place. DJ Francisco is one of the best options for an experienced Wedding Entertainer here. With over 20 years of professional, Successful, 5-Star. Positive Reviews. Francisco serves the Entire Area, including The Woodlands, Conroe, Beaumont, Katy, Pearland, Angleton, Galveston, Freeport, Humble, Kingwood, Baytown, Beaumont, and even traveled to Dallas, Fort Worth, Lousiana, Oklahoma, and Arkansas on a few occasions. We may not be the most famous DJ from Houston, but, for all types of parties, we are the #1 DJ in Houston!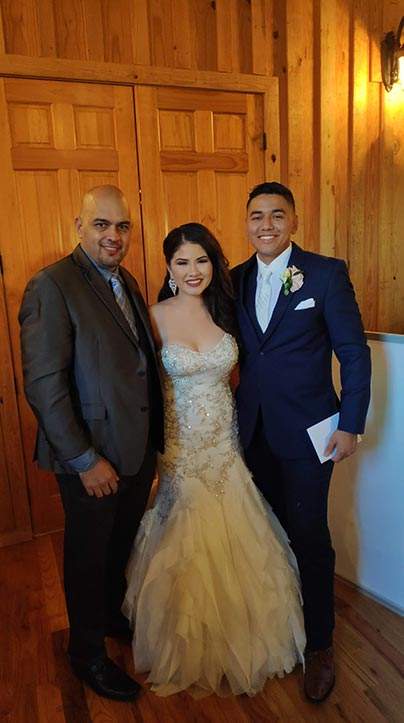 About DJ Francisco
DJ Francisco is an experienced Wedding DJ located on the East side of Houston. He brings 20-plus years of wedding experience to your party.
Top Reasons why you should hire me as your DJ
Extensive knowledge of all music Genres from Spanish to English Music.
He is bilingual and able to make perfect announcements in Spanish and English.
Loves to Dance and have a good time at EVERY PARTY!
Nice and Friendly, but loves to take control of the event.
Low-key-wedding-planner. He loves to help with his extensive knowledge of how to plan your wedding itinerary. When it applies to your entertainment, he is the expert.
OVER 20 years as a Wedding DJ in Houston
What got me started DJing?
I got started djing around the age of 17 when our church youth group needed to raise money for the activities. Having a Love for Music and Dancing, I jumped both feet forward. I volunteered to play the music at an upcoming fundraiser event. I made the speakers and bought second-hand gear. That consisted of portable walkmans, or cd players, and a few lights. Wasted a full week's check on CDs and thought, I was ready to DJ the event. The event was a good result, but far from my best work.
Why Do You Want DJ Francisco at Your Event?
I'm very passionate about making people dance. I have taken classes, gone to workshops, and invested in my education as a Master of Ceremonies. I do everything in my power to make sure the event is exactly what my client has imagined their event to be. I have over 200 Reviews, emails, and letters of gratitude from previous clients. Finally, I want to put a smile on your face on the day of your event.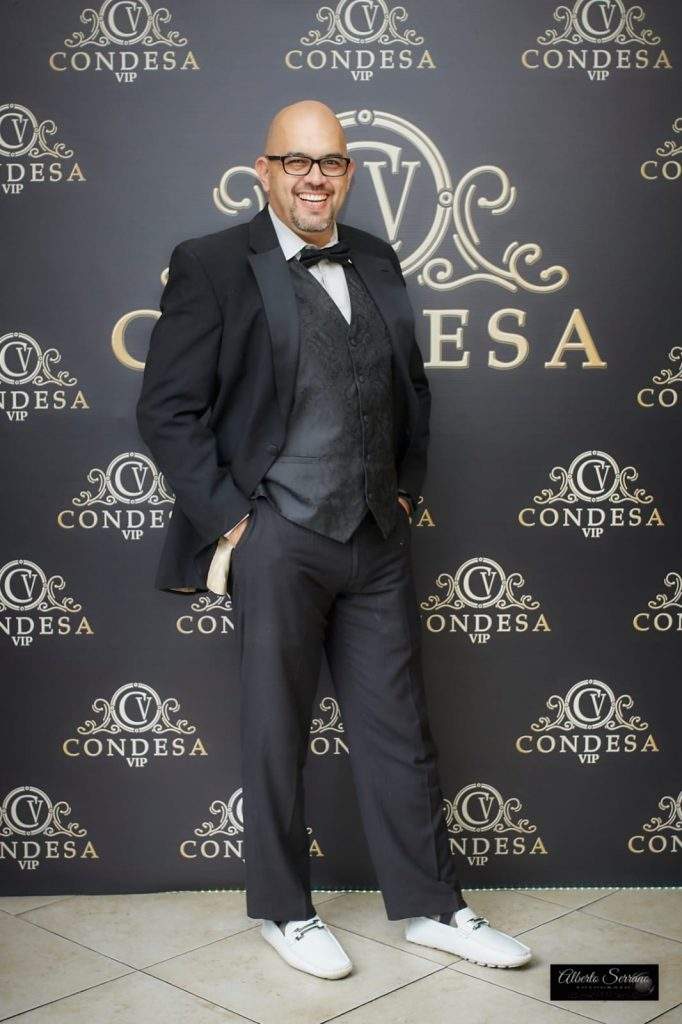 Elegante Entertainment
Trust your event to Elegante Entertainment, an experienced Wedding Entertainment Company. Dedicated to providing the highest quality DJ Service for any special occasion. Read our reviews, you'll understand why past clients LOVE us. The Best in Houston Entertainment!!
Services Offered
We are a full-service entertainment establishment. At Elegante Entertainment we provide:
Photo Booth Rentals,
Monogram Projection,
Uplight Rentals,
L.O.V.E. Letters Rental,
Wall Wash Patterns,
Personalized Bridal Party Introductions,
Audio Visual Rentals, etc…
Our DJs will play the best hits at your event. All your guests, no matter where they may be on that dance floor. That means that everyone there will have a great time! Additionally, our professional DJs will treat you with the utmost care and respect. We are careful to only play the clean version of the best music out there. Also, we make sure to respect your guests and your vision of your event. That is why we are one of the most sought-after DJs near the greater Houston-Katy area.
Watch DJ Francisco MC and DJ a Wedding at Olde Dobbin Station
No other DJ in Houston Company Can Compare our Services
At Elegante Entertainment, we are so much, much more than just "a Houston DJ Playing music." Our DJ professionals are also effective Masters of Ceremonies. As DJs, they are experts at reading the crowd. Whether you want a calm relaxed atmosphere or a hype-let's-party atmosphere, the DJ will get the results you want.
We know Houston and we know the diversity that is in this beautiful city. Most of our events need a unique-to-that-event playlist. At any single marriage reception, music can include every genre that is out there. Or, your big day can be traditional to your culture. That's why we will guide you to select the best playlist for your event.
How much do DJs typically cost?
One of the Best DJs in Houston, TX for Parties…
I have always loved to cut a rug or dance. Because of that, it helps me tell the difference between the songs. Some are for moving to the rhythm and some songs are for laying back and relaxing. We can play those songs during your dinner reception. Of course, we do want you to save a few slow songs for the dancing. Playing a great mix of songs to shake a leg, will allow more people to remain out on the dance floor.
Over the past 20 years, I've trained not only in music but in Being an entertaining Master of Ceremonies. All your guest's attention will be completely focused on what is going on at the wedding. So that when it's your turn to pirouette with your husband, everyone's eyes will be on you. Living that special moment with you
We take your vision, and combine it with our expertise, to give you the marriage reception of your dreams! That's why we are one of the best wedding Entertainers in Houston.
— Sincerely
DJ Francisco
P.S.
I'm looking forward to contacting you back! Click on the button below where you can call us from this website (if you're on your phone) or send us an email.
The Houston DJ that Other Look Up To
When you want someone who will work hard for you without cutting corners. Or settling for less than your total satisfaction. Turn to an expert like DJ Francisco of Elegante Entertainment. He's the ultimate Disc Jockey professional in the area! He's the DJ Houston are people can count on to get the results you want. Book a DJ. If you follow my personal Facebook, you'll see countless times where other DJs say I'm ahead of my time. Things I did 10 years ago, like the all-white setup, DJs are doing now!
If you are on the go and still want to ask a question, simply drop us an e-mail.
[email protected]
We are happy to answer your questions or give you information via phone.
Call directly by clicking on the number
(832) 465-1161
We are a home-based DJ in Houston. The best part is we can drive to meet you at a halfway point!
Elegante Entertainment DJ Reviews
Elegante Entertainment DJ is rated 4.9 / 5 based on over 200 customer reviews.
Reviews about our Houston Wedding DJs
We've received a lot of reviews from all the popular tie-the-knot and local websites. This includes Google Business, Facebook Business, Wedding Wire, and TheKnot. To read an overwhelming amount of our reviews, make to visit our reviews page.
Francisco stepped in at the last minute when our DJ realized that he double-booked himself. Hire Francisco if you want someone who will listen to you and will propose suggestions, but not impose on you. He did a great job running our reception, particularly that he had to do it in both English and Spanish.

Music was great – played what we had asked for and more from his extensive playlist. Everyone danced until the function ended. He did an excellent job with the La Hora Loca, playing our must-play songs and adding some of his… Stuck with the itinerary for the evening! Great MC, ensuring the bride and groom were ready, the guests were having fun and he knew the pulse of the festivity all night

-Yvette O (TheKnot.com)
WOW! Where do we start?? Let me start by saying…"FRANK IS THE MAN"!!! He had some of the best ideas for our wedding. He made our wedding so fun, and helped everyone come together! He knew exactly what selection of music to play to get everyone on the dance floor. We even had some of our conservative church friend's boogying down. Frank would take time out of his day to answer all of our questions. He would meet with us to discuss all details, and made us feel very important.

He really cares about his work, and cares about his clients. He spends so much time on his work and makes it perfect. He is very professional!!! Frank made many suggestions on different games/ styles for our wedding. We did the introduction of our bridal party, which was a huge hit. We also did a kissing game, that was fun for couples attending the wedding.

Frank put together for us a "Funny Dance" song that was GREAT! The crowd loved it, and it set the mood for the whole night. We had many people come up to us not only complimenting on how wonderful of a time they were having, and how romantic the wedding was, but also how amazing the DJ was. Chris and I recommend Frank to EVERYONE!! The Best DJ in TOWN!

-Dana (WeddingWire.com)
We got married 11/2020, and couldn't have asked for a better DJ. Francisco was amazing to work with. We had multiple meetings prior where we were able to work with him to work on the timeline and picking out the perfect songs. He gave us ideas on how to merge west coast, Mexican and Central America music.

Francisco provided his expert opinion which was so helpful in planning our big day. Throughout our wedding Francisco did a great job playing music that kept the crowd groovin' and having fun all night. Hirving and I received complements left and right on how great our wedding was and how much fun they had which was all thanks to Elegante Entertainment. Thank you Francisco for going above and beyond.

– Gorjess Glamm (Google.com)
Services
Our Disc Jockey service usually stands on its own when it comes to quality DJ entertainment. That's why we're the best Entertainment company near you. However, if you wanted to add to your fun, we recommend some of the following add-ons.
ZIP Codes We Serve…
Here is a list of zip codes that we can provide services to as well as our dedicated page to those zip codes and cities near Houston TX
77001, 77002, 77003, 77004, 77005, 77006, 77007, 77008, 77009, 77010, 77011, 77012, 77013, 77014, 77015, 77016, 77017, 77018, 77019, 77020, 77021, 77022, 77023, 77024, 77025, 77026, 77027, 77028, 77029, 77030, 77031, 77032, 77033, 77034, 77035, 77036, 77037, 77038, 77039, 77040, 77041, 77042, 77043, 77044, 77045, 77046, 77047, 77048, 77049, 77050, 77051, 77052, 77053, 77054, 77055, 77056, 77057, 77058, 77059, 77060, 77061, 77062, 77063, 77064, 77065, 77066, 77067, 77068, 77069, 77070, 77071, 77072, 77073, 77074, 77075, 77076, 77077, 77078, 77079, 77080, 77081, 77082, 77083, 77084, 77085, 77086, 77087, 77088, 77089, 77090, 77091, 77092, 77093, 77094, 77095, 77096, 77097, 77098, 77099, 77201, 77227, 77210, 77229, 77251, 77253, 77265, 77267, 77301, 77302, 77303, 77304, 77305, 77316, 77318, 77356, 77372, 77377, 77384, 77385, 77382, 77389, 77407, 77501, 77502, 77503, 77504, 77505, 77506, 77507, 77508, 77536, 77581, 77583, 77584, 77586, 77588, 77597,
Updated: 7/12/2021