Bouquet Toss Songs for Houston Weddings
Bouquet Toss Songs are the songs that used to start the bouquet toss at the wedding. Your DJ or MC will call up all the single ladies to come up to the middle of the dance floor where the bouquet will be toss.  What's your choice here? The Bouquet toss is usually done after the Mother-Son Dance Songs and after a little bit of dancing.
Below is a list of the top bouquet toss songs from couples all over the United States.
Even if your wedding is in the Houston area, this should help you get started picking your bouquet toss selection.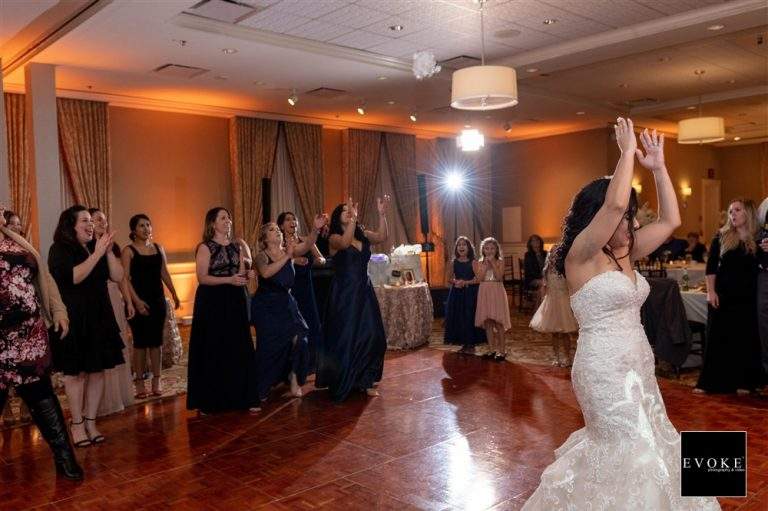 The Top 10 Bouquet Toss Songs
Top 25 Bouquet Tossing Songs
| | | | | |
| --- | --- | --- | --- | --- |
| 1 |   | Beyonce |   | Single Ladies (Put A Ring On It) |
| 2 |   | Meghan Trainor |   | Dear Future Husband |
| 3 |   | Shania Twain |   | Man! I Feel Like A Woman! |
| 4 |   | Cyndi Lauper |   | Girls Just Want To Have Fun |
| 5 |   | David Guetta Feat. Flo Rida & Nicki Minaj |   | Where Them Girls At |
| 6 |   | Beyonce |   | Run The World (Girls) |
| 7 |   | Spice Girls |   | Wannabe |
| 8 |   | Ludacris Feat. Mystikal |   | Move B***H |
| 9 |   | Christina Aguilera, Lil' Kim, Mya & Pink |   | Lady Marmalade |
| 10 |   | Kelis |   | Milkshake |
| 11 |   | Lizzo |   | Good As Hell |
| 12 |   | Shania Twain |   | Any Man Of Mine |
| 13 |   | Weather Girls |   | It's Raining Men |
| 14 |   | Beyonce |   | Love On Top |
| 15 |   | TLC |   | No Scrubs |
| 16 |   | Kool & The Gang |   | Ladies Night |
| 17 |   | Lizzo |   | Truth Hurts |
| 18 |   | Pat Benatar |   | Hit Me With Your Best Shot |
| 19 |   | Beyonce |   | Formation |
| 20 |   | Beyonce Feat. Jay-Z |   | Crazy In Love |
| 21 |   | Destiny's Child |   | Jumpin, Jumpin |
| 22 |   | Blondie |   | One Way Or Another |
| 23 |   | Destiny's Child |   | Independent Women Part 1 |
| 24 |   | Gwen Stefani |   | Hollaback Girl |
| 25 |   | Keri Hilson |   | Pretty Girl Rock |

See the Top 50 Bouquet Toss Song List

Related Links