Cold Spark Machine Rental Houston!
How Much do Cold Spark Machines Cost?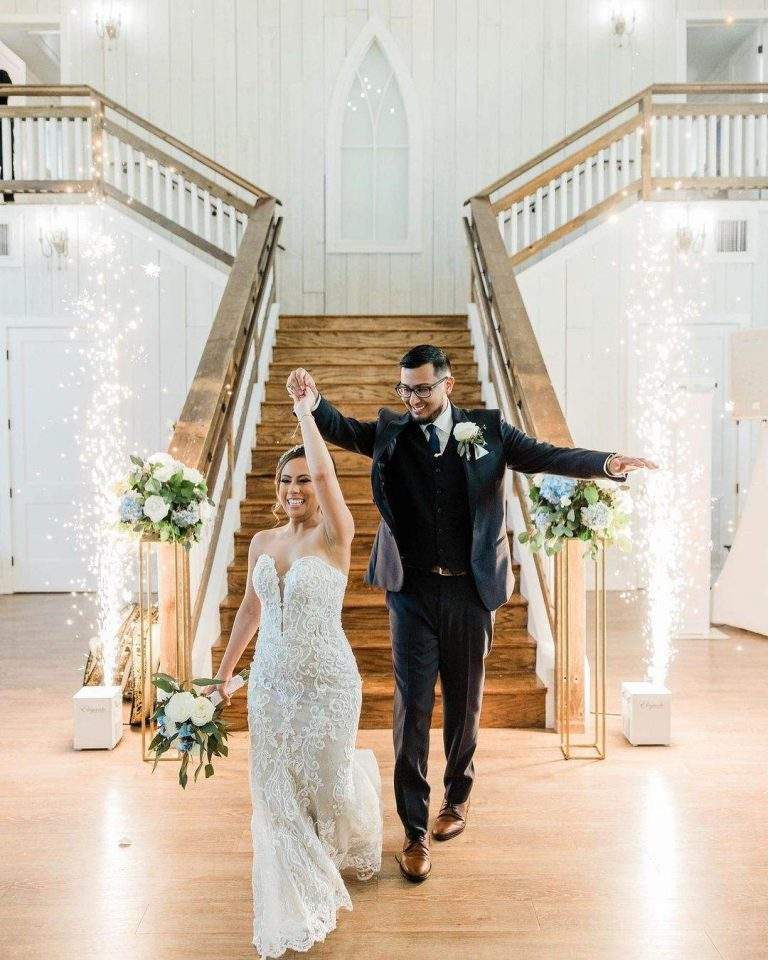 The price to rent Cold Sparkler machines will vary from vendor to vendor. Our price for this rental is $200 per cold spark machine. We do a 2-machine minimum, so your rental will cost you a minimum of $400 to acquire these machines for your event.
How many times can this be used?
There is a limit in time, max rental is a 2-hour window. Our technician will arrive, set up the machines and warm them up, 20-30 minutes before they are needed. 
A great idea would be to set them up in one place where you can use them for your grand entrance as well as the formal dances.  The machines can be used up to a total number of 6-8 times, all within that 2-hour window. This gives you time to do your grand entrance, have your dinner, and then do your formal dances. 
Are there any hidden costs?
Well, it's not necessarily a hidden cost, but we do waive the delivery, installation, and attendant fees if you add these machines to any package that you may have with us. However, if you need us to come, install, and run these machines, we do have to hire a trained technician to do that for you.
Are the Sparklers safe to Use Indoors?
The Elegante Entertainment Cold Sparklers are very safe to use indoors. Our cold sparklers use a special powder that is very safe on most items. In the video here you can see that our sparklers reach the 10-foot Ceiling and even touch the Chiffon fabric and nothing happens to them. You can hear the owner of the hall at the end asking us if we can go lower than that. We ran these machines for 45 minutes without any issues. 
https://youtu.be/0_DTRLEbwcs

Reserve at (832) 465-1161



What are Sparkluars?
Sparkluars, or Cold Spark Machines, are non-flame-causing units for special effects at your wedding reception. Additionally, they can be used for any type of party, including concerts. The effect is spectacular, with no flame, a sparkler shooting machine that is set on the floor. To our knowledge, these machines do not require an expensive, pyrotechnics license to use. However, please check with your venue to ensure that they allow this machine in their venue. These machines are available to rent for your upcoming wedding. Also, they are safe for use indoors and out. This is the new effect you want at your wedding. 
DJ in Houston Cold Spark Machine Rental Houston, or Sparklers, also known as #Sparkulars.  #coldspark machines create a high stream of bright sparks during special times of the night. They can be used to highlight the grand introduction, the first dance, or any other special dances during the night as well as cake cutting or the beginning of the open dancing. This creates a very noticeable #wowfactor at your event
Combined Both #dancingonacloud and #sparklers can be combined to get a notch of extra elegance to your wedding or formal event. This effect is a very popular and very new and modern way to separate your event from the rest! We truly are the Best DJ in Houston for Dancing on the Clouds and Cold Spark Machine Rental Houston
Sparklers #sparklers #sparkular
Cold Spark Fountain Features.
Both Indoor and Outdoor usage.
 Little to no smoke dissipates fast (check the video below).
No odors.
Up to 1 minute of shoot time per pack of granules.
The fountain shoots at 30-second intervals.
Height is adjustable from 4-14 Feet.
Adjust the density of the fountain.
Easy set up multiple locations.
Sparkular effect from special granules.
Runs VIA DMX cables.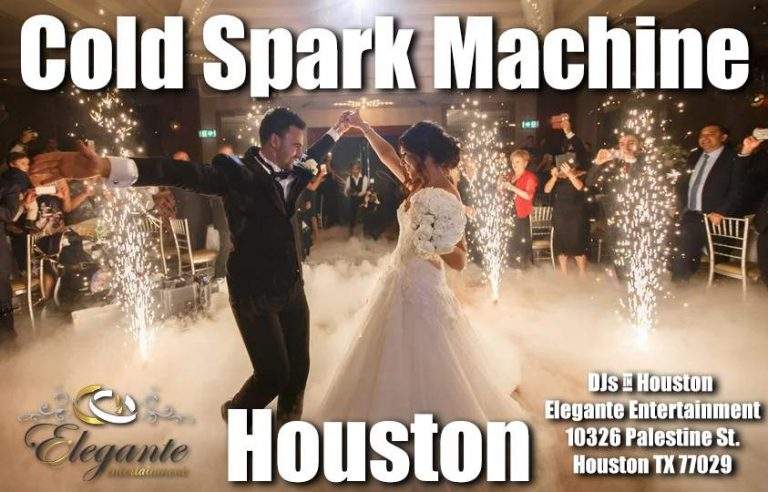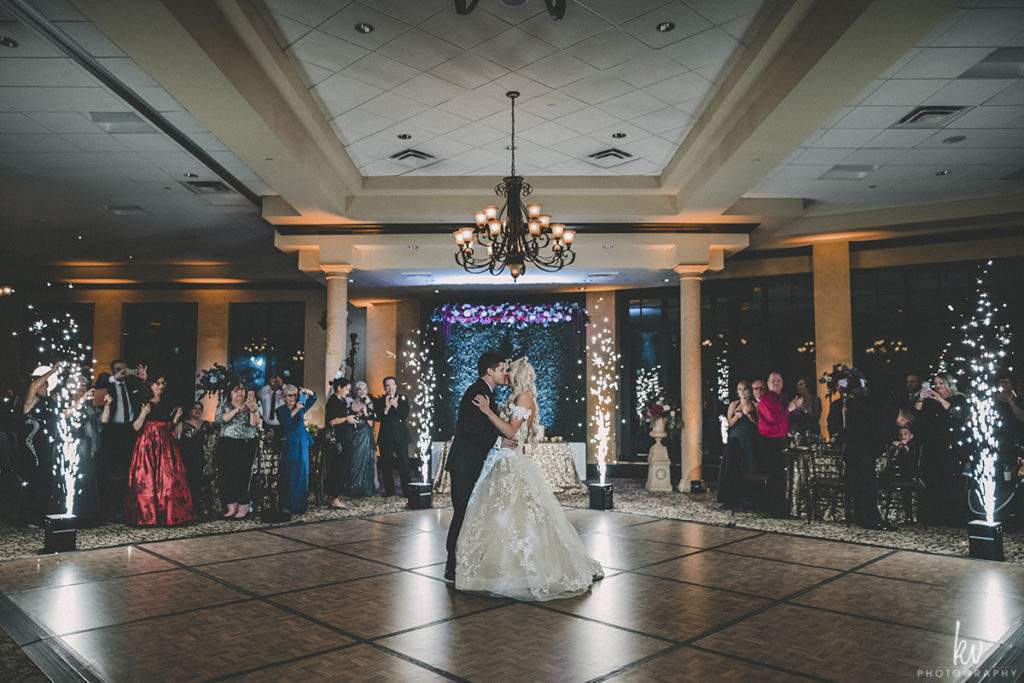 Cold Sparkler Rentals in Houston Events
Venue: Holy Trinity Cathedral
Here is a rental of 4 sparkulars at the Holy Trinity Cathedral in Sugarland Texas.  This is the first test before the use of the sparkler machines getting set up and almost ready to start!
Indoor Cold Sparklers Machines
Are these indoor cold spark machines? Well yes, our cold spark machines are for indoor use. However, as a vendor of the machines, we take proper precautions in every rental. Our machines are placed a few feet away from anything that may seem flammable. These items include linens, DJ equipment, plastic flowers, a chair cloth, and anything that may be able to catch on fire.
In the event below, we placed the machines about one foot away from the bottom of the staircase. After we placed the machines, maybe an hour later, the staff had placed some greenery on there. Now, live greenery is harder to catch on fire, since it was not dry. But, because we took care of placing the machines, there was no need to have to move them after they were already set up.
The Elegante Entertainment Cold Sparklers were used in this Video as the U of H Cougars Men's Basketball 2022-23 season got started!
Cold Spark Machine at a Sweet 16 on 4.2.21 <—- Watch on Facebook
Dancing on a Cloud and Cold Sparkler Video
https://www.youtube.com/watch?v=zA19jvfaN1w

Reserve at (832) 465-1161