Wedding Photo Booth Rentals Houston
Wedding Photo Booth Rental Houston is here to help you create memorable prints of the fun times at your wedding reception. 
Our photo booths include the traditional photo booths, open and enclosed, the magic mirror photo booth, and the brand new 360 booth.
Traditional Open Air Photo Booth
Our Traditional open-air photo booths provide hours of continuous photo booth fun. Grab a friend and bring them over to take a fun, spontaneous photo. With printing on demand, your photo will be available in under a minute!
The photo booth can fit large groups of up to 8 people. So get all your cousins, all the bridal party and have a ball. In the majority of the cases, everyone will receive a print of the session. Sessions can have 3 or 4 photos per session. Each photo will have a countdown timer to signal the photo booth will begin taking photos.
The included party props will give you plenty of ideas for your photo poses. This is by far one of the most popular wedding photo booth rentals in Houston.
Magic Mirror Wedding Photo Booth Rental Houston
The Magic Mirror Photobooth is a fun and interactive photo booth. It's a great option for any wedding reception. This full-sized photo booth mirror allows you to see yourself. You'll see yourself exactly like the photo booth will take your photo. Full-body photos for all your guests. Also, you'll get the red carpet treatment! Includes stanchions to get that Hollywood feel as you walk down the red carpet. You're ready get your glam photos taken. The magic mirror booth provides you with the ability to sign your photos after each session. This feature further personalizes each photo session with a unique signature. Don't want to sign it? Any quick drawing you can come up with is also an option. These drawings include a hand-drawn heart, smiley face, or any cute drawing you can think of.  This photo booth is interactive and a lot of fun for everyone of all ages.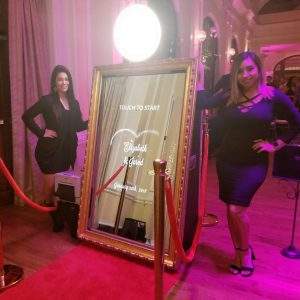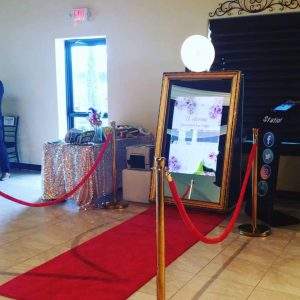 What do your Photo Booth Prints look like?
Our high-quality dye-sublimation printers print the cleanest and clearest pictures available. Unlimited Printing during the rental of the event.
Your special signature and event will be on every print for your guests to take home as a wedding keepsake.
Our photo booths fit many people and you can take a full family picture or a picture with all your friends.
Standard print size is a photo strip that is 2″x6″ (2 inches by 6 inches)



Your Guests Can Sign Digital Prints
If you chose our Mirror photo booth, your guests will have the ability to sign their prints after they're done, draw a heart on the images, or anything they want to draw or write on their photos. 
As you can see from these photos, you can also select a wider photo format with the magic mirror photo booth.
Magic   Mirror Photo Booth print size is a photo that is 4″x6″ (4 inches by 6 inches)
Pillow Backdrop for Wedding Photo Booth Rental Houston
We have several Backdrops to choose from. We have some Pillow backdrops, which are spandex with a printed pattern on them. See the photos. We Have a Great Gatsby theme, Roses, Flowers, Happy Birthday, Buttons. Greenery with LOVE, Happily Ever After, and Cray in Love written on it.
The size of these Pillow Backdrops is 8'x8′ (8 foot by 8 foot), stand tall and very elegantly. Will fit in most venues. Nonreflective so your photos will not be affected by a flashback from the camera flash.
This inventory will be growing in the near future.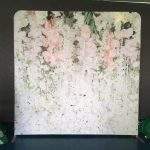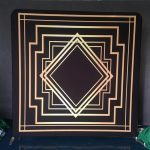 8mm Sequin for Wedding Photo Booth Rental Houston
Sequin is an elegant photo booth backdrop with glare and elegance. We currently have Gold (pictured), Silver, Peacock color, Baby Blue, Red, White with a pink pearl accent. 
More photos to come…
Traditional Photo Booth Pricing
Traditional Photo Booth Rentals start at
3 hours for $695
4 hours for $795