Tailored entertainment unique to you
You'll enjoy your event...
The Music Fades into silence...
Guests begin to wonder what's going on. A welcoming voice comes over the Speakers Greeting the guests. "Good Evening Ladies and Gentlemen…"
The room chatter quickly fades to a complete silence.
The MC comes on again in energetic and enthusiastic chant.
"… And WELCOME… To _____ & ______'s Wedding CELEBRATION!!!!" 
Spontaneous and eager cheer fills the silence!
The Time has come.
Family members and close friends happily await the grand presentation of the newly,  married couple. 
"Please rise and Help me welcome the NEW!, Mr & Mrs ______________!!!!!
Ladies and Gentlemen, weddings are my passion. The experience you get with a trained Disc Jockey / Master of ceremonies is priceless. 
Entertainment is the ONE thing your guests will remember the most.
Lots of Dancing. And Singing. All Night long! Must watch.
Looking for a 5 Star DJ in Houston?
Then you've come come to the right place, DJ Francisco is one of the best options for if you are looking for experienced DJs in Houston. With over 20 years of professional. Successful. 5-Star. Positive Reviews. and Elegante wedding experience. You connot go wrong, and only go right!
Trust your event to Elegante Entertainment, an experienced Wedding DJ Company. Just read some of our reviews.
We are a full services entertainment company. At Elegante Entertainment we provide, Professional DJ Service, Photo Booth Service, Monogram Projection, Uplight Rentals, Dancing on a Cloud, L.O.V.E. Letters, Cold Sparklers, La Hora Loca Entertainment, Wall Wash Patterns, Personalized Wedding Party Introductions, Audio Visual Rentals, etc…
Elegante Entertainment will play the best hits at your event, so that all your guests, no matter where they may be from will get a chance to dance. That means that everyone there will have the opportunity to have a great time!
As a DJ, I have always loved Dancing and as a dancer I can tell the difference between the songs that are for dancing and the songs that are not for dancing, so I can play those during your dinner reception. Playing a great mix of dancing songs will allow more people to remain out on the dance floor.
Over the past 20 years, I've trained not only in music but in Being an entertaining Master of Ceremonies, which means that all your guests attention will be completely focused, informed and on the same page with what is going on at the wedding.  So that when you dancing with you husband everyone's eyes will be on you and living that special moment with you.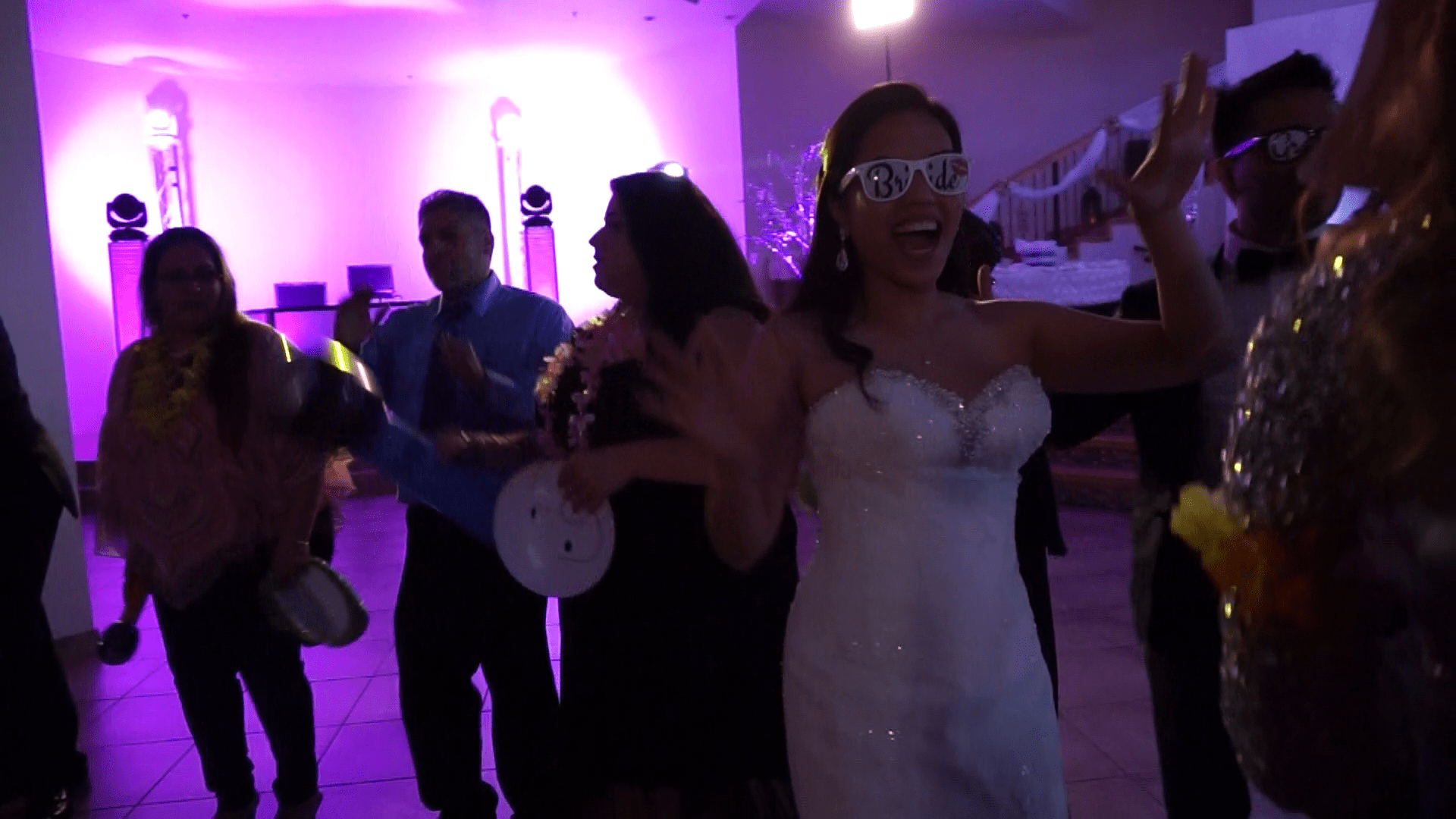 Besides the Professional DJ and Photo Booth services, we are able to further help you with the following upgrades to your unique wedding experience.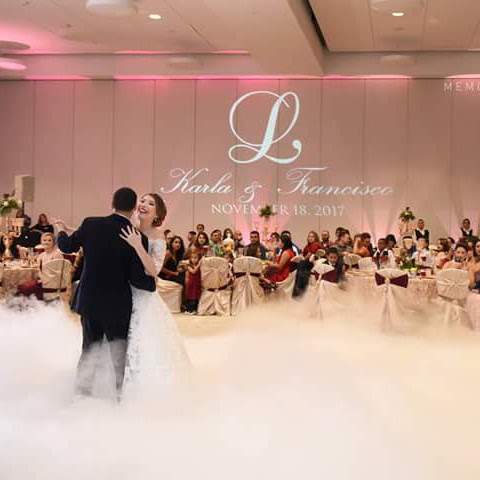 Wedding Monogram
Customized Wedding Monogram Lighting to show your wedding logo or monogram on the dance floor or a wall for all to see.
Experience the feeling of dancing on a cloud during your first dance. It's a romantic idea and beautiful experience. Click on the Photo to read our Articles.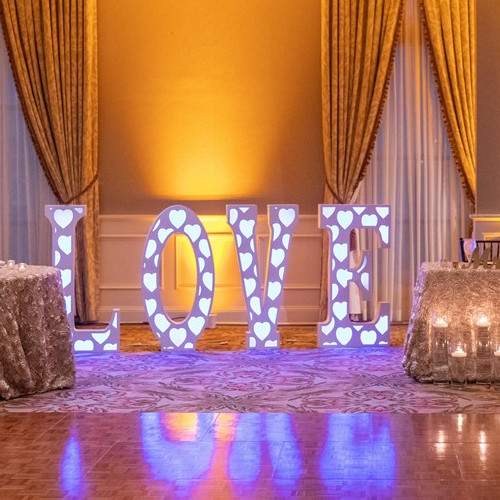 L.O.V.E. LETTERS
L.O.V.E. Letters add a reminder to your guests what is celebrated that day, and that is the love between to wonderful human beings.
Up Lighting
Up Lighting creates a romantic mood for your wedding reception. We can easily tie in the colors of your wedding to create a beautiful wedding atmosphere.
Audio & Video
An additional sound system may be rented for your Ceremony, cocktail hour. In addition, we can provide TVs or Projector Screen to show you slideshow.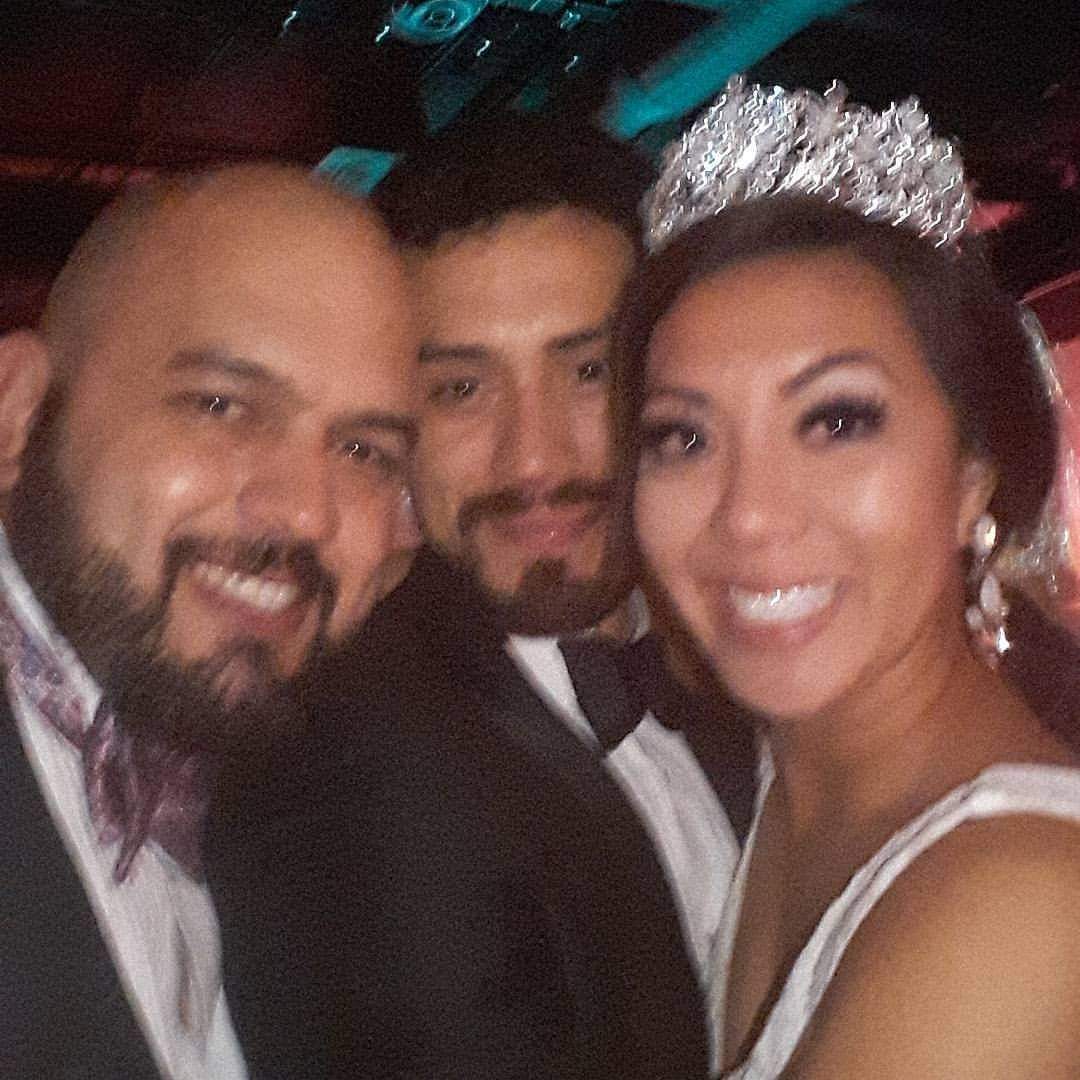 Francisco kept the dance floor PACKED! It was such a great party and celebration and that is what we had wanted, one big party! ... We highly recommend him for a DJ–you won't regret it!
Franscisco was the best! I had a 400+ guest wedding, Mexican and Persian families. The dance floor was never empty. He did a wonderful job, even cut music for my father daughter dance. Highly recommend him!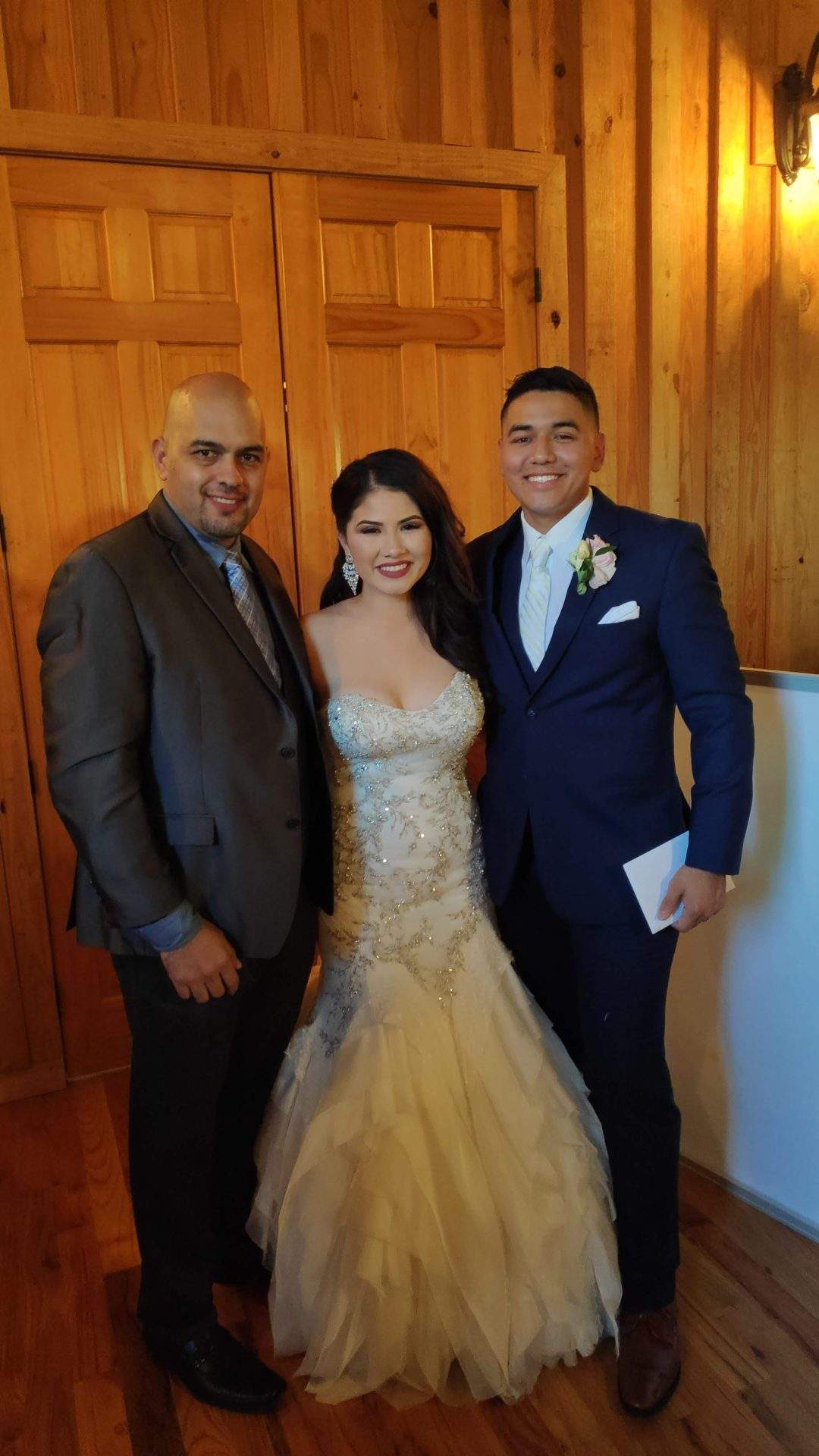 Francisco is seriously one of the best DJs! he felt the crowd and delievered what we all asked for. Everyone loved it and stayed longer than what they had told me. My husband and I danced all night long and enjoyed ourselves very much! Thank you Francisco
I did a lot of research trying to find a DJ that met all my expectations for my wedding ... Because of our meetings prior to my wedding day, I did not have to worry about music the whole night and was able to enjoy my wedding reception. I would definitley recommend you book Francisco for your wedding DJ! Wonderful guy!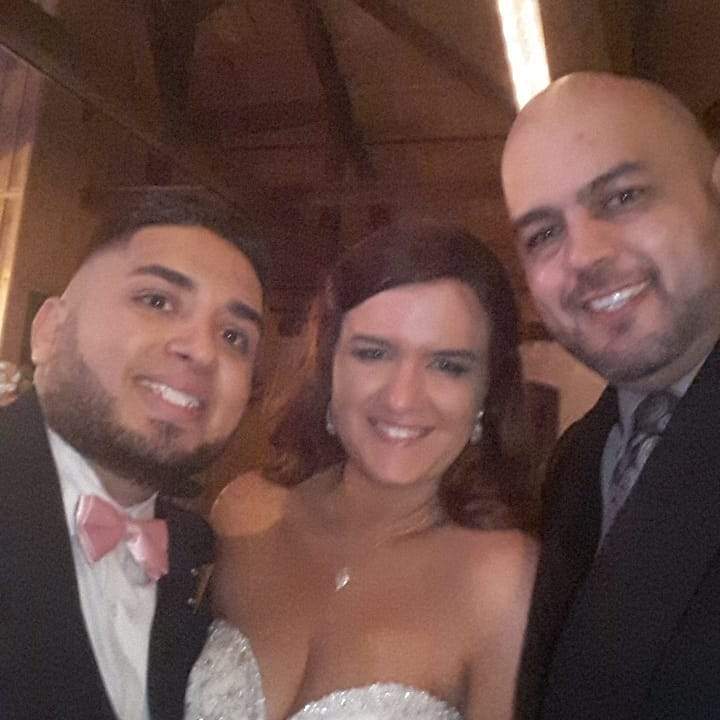 Got to say hands down he's an excellent dj. I really recommend him for any event. Really nice guy and down to earth. Thank you!
Super dj!! Fue el dj de nuestra boda agosto 4 2018 y fue la mejor decision ya que mi esposo es de Mexico y yo Honduras era un poco complicado con la musica pero francisco tomo nota de todo lo que queriamos y huvo variedad de musica. Muy divertodo super recomendado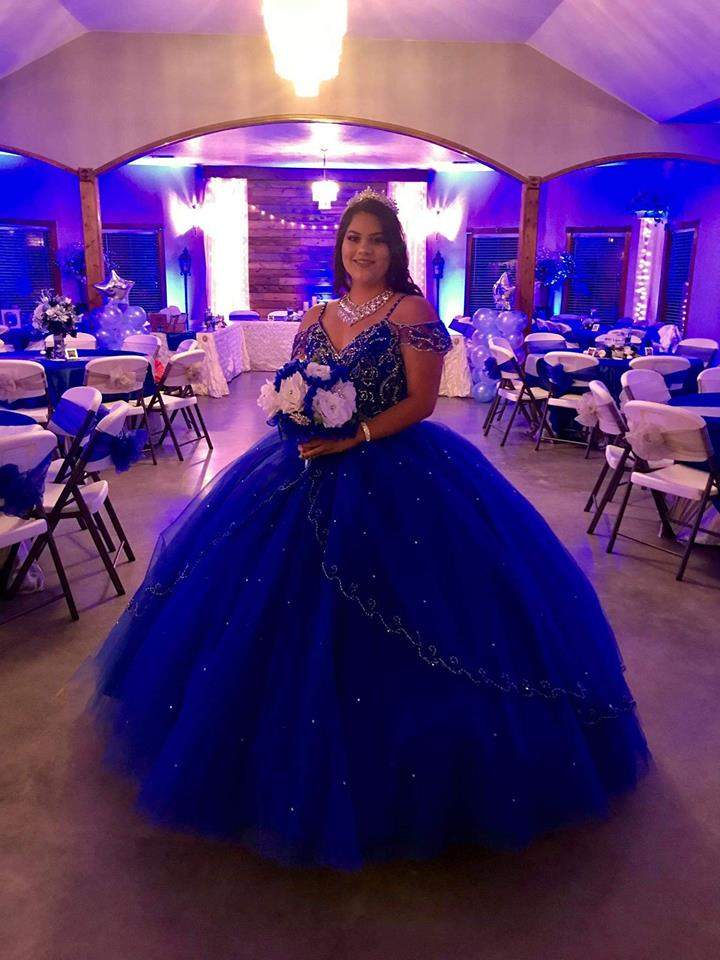 Thank you so much for your DJ service. Alyssa had an amazing sweet 16 you kept the music going and everyone on the Dance Floor we loved it. Thank you I would recommend you to anyone
The Essential 4 DJ
Reception Coordination Service
Professional Sound System
Unlimited Planning Meetings
Your Name in Lights (Monogram)
20 Yrs Wedding Experience
Money Back Satisfaction Guarantee
The Essential 5 DJ
Reception Coordination Service
Professional Sound System
Unlimited Planning Meetings
Your Name in Lights (Monogram)
20 Yrs Wedding Experience
Money Back Satisfaction Guarantee
The Pro DJ
Reception Coordination Service
Professional Sound System
Unlimited Planning Meetings
Your Name in Lights (Monogram)
20 Yrs Wedding Experience
Money Back Satisfaction Guarantee
The Deluxe
Reception Coordination Services
Professional Sound System
Unlimited Planning Meetings
Your Name in Lights (Monogram)
20 Yrs Wedding Experience
Money Back Satisfaction Guarantee
La Hora Loka
Add On
One Hour of Hyped Entertainment
Custom Music Mix Included
Endless Smiles and Fun for all
Photo Booth
Starting at
$
If you are looking for an awesome photo booth experience for any kind of event, this package gets the party going!
Personalized Photo Template
Digital Delivery of all photos post-event
We are a home based business. The best part is we can drive to meet you at a halfway point!
Dancing on a Cloud and Sparklers Package
Dancing on a Cloud #dancingonacloud
This effect is produced with a powerful dry ice machine that creates a low lying cloud (Not to be confused with fog, as fog is not permitted in many venues) around the dance floor during a special dance, such as the bride and grooms First dance, or a Special Father Daughter dance during a Quinceanera or a Sweet 16. The effect lasts the duration of the song and allows for magical pictures for the photographer and videographer.
Sparklers #sparklers #sparkular
Sparklers or Cold Spark #coldspark machines create a high stream of bright sparks during special times of the night. They can be used to highlight the grand introduction, the first dance, or any other special dances during the night as well as cake cutting or the beginning of the open dancing. This creates a very noticeable #wowfactor at your event
Combined Both #dancingonacloud and the #sparklers can be combined to get an notch extra elegance to your wedding or formal event. This effect is very popular and very new and modern way to separate your event from the rest!
Up Lighting for your Venue
LED Uplighting #uplighitnghouston
Simply put, uplighting is decorating with light. You've seen it in magazines and on Pinterest—ballrooms, tents, churches, and even backyards transformed and personalized through the magic of uplighting. Lighting is the best and most cost-efficient, and dramatic way to enhance an event venue. The stunning before-and-after transformations will amaze your guests. Enhance (or hide!) architectural features in your venue, and instantly create the mood and ambiance of your choice.