DJs in Houston Elegante Entertainment at The Springs Venue in Wallisville, Trinity Farmhouse
Wedding at The Springs Venue Wallisville TX (4k) by Elegante Entertainment DJ and Master of Ceremonies. For this matrimony celebration, we provided our DJ and Bilingual Master of Ceremonies Service. This is by far the best Wallisville reception hall.
This was a great crowd, with lots of people there ready to dance and celebrate the night away. These people came to the party to dance their a$$ off and we delivered! We played nothing but the hits and made sure that we brought them back to the dance floor after the dance floor cleared, for the dollar dance, and after the bouquet and garter toss.
Lots of Dancing and Fun at the Matrimony of this remarkable couple
Video Order of Activities
00 Best Wallisville Wedding Venue
0:11 Intro Screen
0:19 The Venue
1:34 MC's Bilingual Grand Introductions
2:42 Bride and Groom's First Dance Announced by Bilingual MC
3:27 Dance Floor Opens
3:28 Cumbias
19:12 Huapangos
23:11 Nortenas
28:24 Line Dances
39:38 Merengue
41:32 Cumbias
47:30 Huapangos
50:56 Bouquet Toss
51:42 Garter Toss
52:34 Line Dances
The Springs Wedding Playlist
We had a mixture of bilingual music. Spanish and English music hits were played as you can see in this playlist below. These are the exact songs and the exact order that was played in the video above. The first few songs are from the Special Entrance songs and the first dance.
Make You Feel My Love
Perfect Symphony (with Andrea Bocelli)
How Sweet It Is (To Be Loved By You)
I Can't Help Myself (Sugar Pie Honey Bunch)
My Girl
Make You Feel My Love
Juana La Cubana (Main)
Aguita De Melon (Clean)
Los Angeles Azules feat. Natalia Lafourcade – Nunca Es Suficiente (Cumbia 94 Bpm)
Aniceto Molina – La Sampuezana-La Cumbia Cienaguera 95
Cumbia De Reversa
La Suavecita (DJDX Extra Beat Remix) (Extended)
Se Me Perdio la Cadenita
Huapango Remix
La Puerta Negra
Playa Sola (dj 3b Remix) (Clean)
Cardenales de Nuevo Leon – Belleza de Cantina Edicion de Video DJ Montiel
Cupid Shuffle
No Rompas Mas & Payaso del Rodeo – Caballo Dorado – Dj Ricardo Jimenez Mix
Suavemente
Elvis Crespo – Luna Llena (Intro RE WORK EDIT
Brooks and Dunn – Neon Moon
Midland – Drinkin' Problem
Los Rieleros del Norte – Una Aventura2
La Zenda Norteña – En Silencio (Vremix Dj Memo) Clean
La Sonora Dinamita – Otra Ocupa Mi Lugar Extended Dvj 3b Clean
Yo Me Llamo Cumbia – Dj JC – Cumbia – Intro Outro – 101BPM [V-Edit Dj Felipe Alvarado]
SONORA DINAMITA – MIL HORAS ( VIDEO CUMBIA EXTENDED EDIT)
La Parabolica
Las Brujas (Onne Edit Simple Intro Outro) 102BPM
Que Bello (Extended) (Dvj 3b) (Clean)
la sonora dinamita – la pollera colorada
Escandalo (Extended) (Dvj 3b) (Clean)
Viva Linares
Redoblando
El Brinquito De La Perra Ro osa
Truth Hurts (Intro Clean)
Get Lucky (Clean)
Yeah! (feat Lil' Jon and Ludacris)
Cha Cha Slide (Part 2
El Carnavalito
Don Omar Ft. Lucenzo – Danza Kuduro
13.Echa.Palla(Manos.Parriba)(Feat.Papaya)
Pasame La Botella
Mayonesa
Super Lamas – Yo Quiero Chupar (Extended) (Clean) (Video Edit Dj E!by)
LA BALA
grupo Massore – El Baile Del Gorilla
04-Celso Pina – Cumbia Sobre El Rio (Cumbia Extended Remix)Video Mix
Grupo Super G – La Inconforme ( Dj Rick Cumbia Xtended V Edit Pinky ) Cumbia
101 – Nene Malo – Bailan Rochas & Chetas (Dj EFE Extended) Clean
RayMix – Oye Mujer [Mx-Latin Pool Vers. 2]
Intentalo (Transition)(Dvj Ronaldo Mtz)
La Cumbia Tribalera (Clean) DJ Marcelo Remix [DVJ Jaycee]
La Bota
Line Dance – Original Chicken Dance
Pesado – Cielo Nublado (Clean) Intro
Flor De Capomo (Main)
El Palomito (Original)(DJDX V-Edit)
banda el recodo – pena tras pena
Banda El Recodo – Acabame De Matar (Vremix Dj Memo) Clean
Que Chulos Ojos (Clean) Extended [Dvj 3b]
Busca Otro Amor
ADIOS AMOR – christian nodal
Get Lucky (Clean)
Perfect Symphony (with Andrea Bocelli)
Forever
Sparkler Rental at a Wedlock Celebration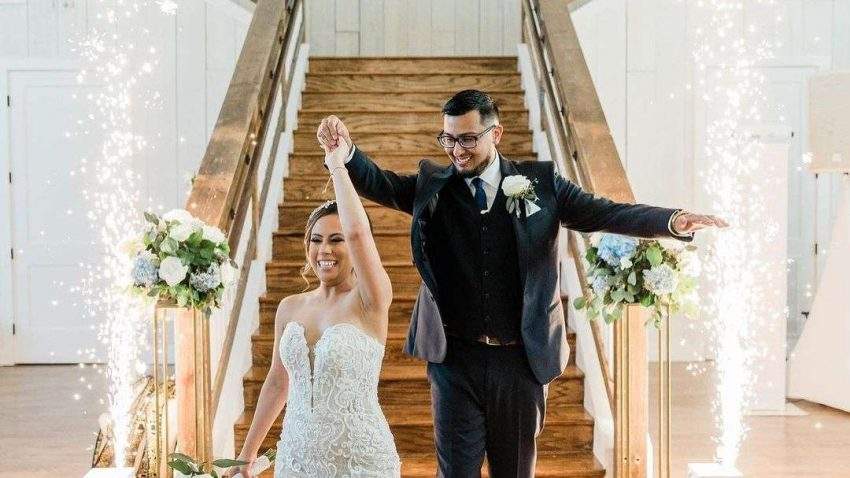 TRINITY FARMHOUSE VIRTUAL TOUR
The MOST PERFECT White Barn Matrimony Venue near Houston, TX
Locale Address 
The Springs Event Venue Wallisville TX
2610 Wallisville-Turtle Bayou Rd,
Wallisville, TX 77597
(409) 277-1877
https://g.page/SpringsVenueWallisville?share
Google Map to Elegante Entertainment
The Springs Event Venue Wallisville TX Vendors
Elegante Entertainment is one of the approved Wallisville Wedding Vendors at the Springs. We are very familiar with the venue and love going out there and rocking out the weddings at the Springs in Wallisville Texas. We have provided
LED Wireless Uplighting
Ceremony Audio
and many other services
DJs in Houston Elegante Entertainment are Wallisville wedding vendors. For the Springs Venues over the last 10+ Years. The Springs venues are always great to work in. They have plenty of space for the vendors, easy load-in for the DJ, and a great big stage for either the DJ or the Bride and Groom's Main table. Additionally, the staff there is always friendly and helpful.
Next time you need a Wellsville Wedding Vendor that is a DJ, feel free to contact us, we'll be happy to come to talk to you about how we can make your vision for your wedding; A reality.
Elegante Entertainment is Located on the East Side of Houston, Texas.  We are on the same side of town as the Springs Wedding Venue in Wellsville Texas, so meeting with future clients will be simple.
See additional Elegante LINKS
DJ Service Provided by
Elegante Entertainment
10326 Palestine St,
Houston, TX 77029
(832) 465-1161
https://g.page/DJinHoustonEleganteEntertainment?share
DJ Special!
Our Trinity Farmhouse Special is as follows:
DJ Service
Ceremony Sound and Mic
Dancing on the Clouds
Uplighting
Indoor Cold Sparklers
for ONLY $?
Call us at (832) 465-1161 or Email Us For this Special Offer!!