What is La Hora Loca
La Hora Loca, also known as the "The Crazy Hour" or "Hora Carnaval" is a fun way to energize your party! Whether you're having a wedding or quinceanera, having la Hora Loca at your event is a sure way to spark some fun, energize the party, and add an hour of props and dancing.
La Hora Loca is usually done by your DJ. Depending on where your family is from, it may be done differently. La Hora Loca, or the Krazy Hour, is done in different countries and it's done differently. Those countries include Argentina, Colombia, Venezuela, Brazil, Mexico, and now in the United States.
Each country's Hora Loca is a little bit different. So let's take a quick look at how each country's Hora Loca Show differs.
La Hora Carnaval Colombiana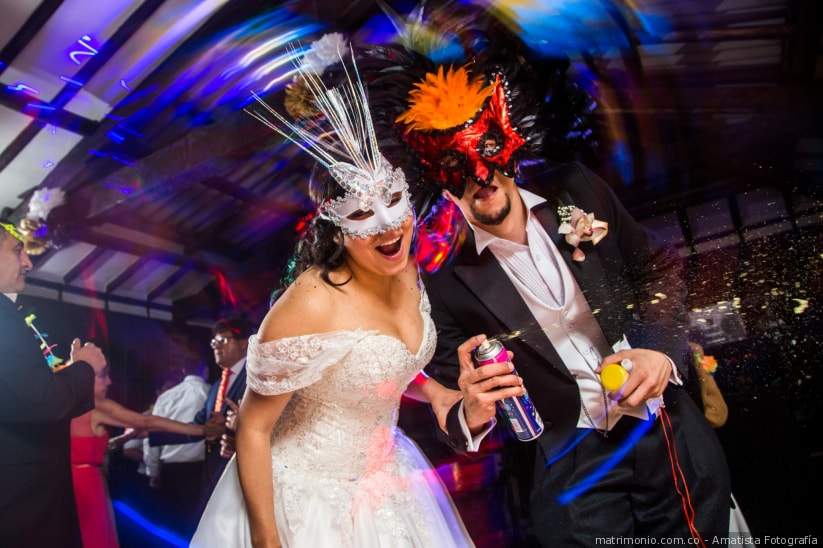 In Colombia, they usually pass out a lot of Colombian hats, also known as Colombian sombreros vueltiaos. Other props include face masks, known as mascaras or masquerades. Feather hats are also a fun idea to have for la hora loca Colombiana. They also can have exotic-looking female dancers as part of certain Colombian traditions.

Americanized Hora Loca Colombiana will have led Glasses and led rings as well as many other LED Props. LED Foam Sticks are usually also added for fun.

https://youtu.be/93L_zeSVsNQ?t=231
Cancione de
Hora Loca Colombiana
Songs
The Music for Hora Loca Colombiana may be different. Colombians in general love lots of fun danceable reggaeton. They also love musica vallenato, for example, Carlos Vives is a great artist that is Colombian. Juanes has great Pop Songs that can be added to Hora Loca Colombiana. Fonseca is another popular artist that has great music that can be added. Cumbias Colombianas are a must for this Crazy Hour or Hora Carnaval. La Pollera Colorada and La Gota Fria are some of the tops songs played at this Crazy Hour of fun.
Some Colombians refer to Hora Loca as La Hora Carnaval. Depending on which region the Colombian guests are from they may call it one thing or another.
Another tradition of Colombians is that they like to dress us the bride and groom with large masks. Bighead masks, that are homemade. I have not seen it often, maybe only once in my 20-year career as a Bilingual Wedding DJ. But I have seen it.
Crazy Hour Venezolana
https://youtu.be/1qnxlQHwiWU

La Hora Loca Elegante Venezolana & Mexicano

https://youtu.be/g3sqLNTuEvk

Venezuelan Hora Loca LIVE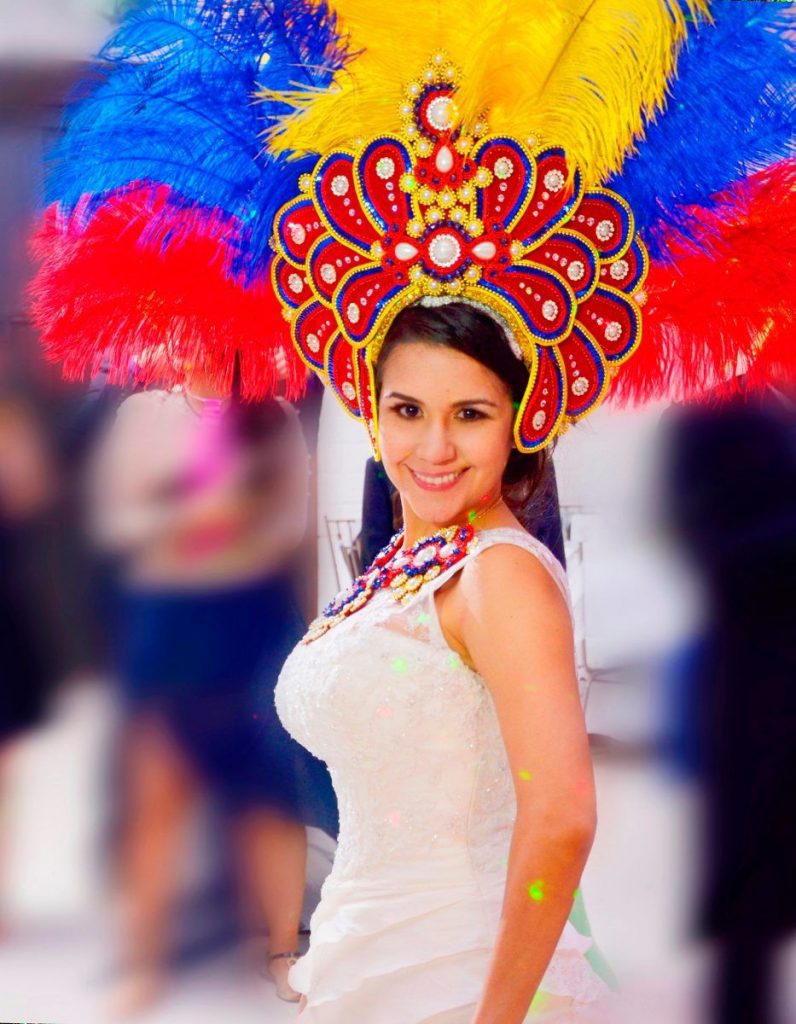 La Hora Loca Venezolana is different. Not by a lot but just a few differences. Venezuelan people tend to like similar music as Colombians. However, their music is more based on a clean style of reggaeton and pop music.
One Venezuelan Hora Loca also danced to traditional Older songs, instrumental, tambores as they call them. They also like to finish with these songs
Their hats are crazier, bigger, colorful, and very cool-looking. Makes me think of Alice in Wonderland. They use Giant Witch Hats, Giant top hats, Giant Foam Sombreros, any large hats. If it's huge and it will draw your attention, they will use it.
Venezuelan Hats for La Hora Loca
Canciones de Hora Loca Venezuela
Here is another video of this crazy hour with different hats. I have this video on my Google Drive so you will have to click on the link to view it
Sample Crazy Fun Hats: https://photos.app.goo.gl/91GHnkJWKRW6k2jTA
Dancing Reggaeton at Hora Loca https://photos.app.goo.gl/XANeUVZh7kKYo1Kf7
Venezuelan Cumbias at Crazy Hour https://photos.app.goo.gl/K28ZhpYXTgPTxfXb6
Besides the crazy hats, they also love to bring some fun signs. Not as many LED-lighted props, more signs, hats, and large glasses.
Show La Hora Loca Carnaval De Rio
The Brazilian Carnaval Hour, or a Carnival. What you imagine from the Brazilian Carnival, with exotic-looking dancers wearing feathered hats and dancing to the samba. The dancers are usually both male and female. They parade around the dance floor inviting people to dance and being part of the fun.
Brazilians LOVE to party and they love their music. They love their traditions and they love their Carnaval.
I've only experienced this type of Carnaval once here in Houston as many Brazilians really would love for their DJ to understand their culture, and that's understandable. Their language is completely different than my native language. Even though Portuguese and Spanish share many common core elements and the words sound similar, pronunciation is key to being a great MC.
La Hora Loca Mexicana
In Mexico, Mainly in Monterrey, Nuevo Leon, at least from my experience, they have their own version of La Hora Loca. They usually use a fun energetic band, that does not rest all night, from start to finish. Then during la hora loca they pass out Balloons, mascaras, or masquerades. They bring out clowns and entertainers. Men and women in stilts are very popular as well. The Clowns are very entertaining. They usually joke around with the crowd as well as dance throughout the night.
The music varies from cumbias to pop music. All the popular line dances are also played.
At one of the weddings, I was invited to be the DJ over in Monterrey Nuevo Leon, Mexico, the band brought out a portable boxing ring, where the members of the band held the four corner posts. They selected two people at random and fitted them with huge, oversized gloved and had them box in the middle of the dance floor. I think they got overly exhausted from the size of those gloves. That was fun and different to witness. Especially since it's people you know personally.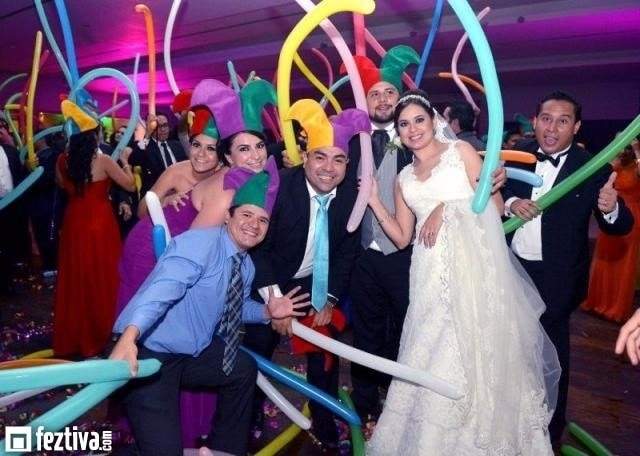 Props also include fun hats, sombreros, large balloons, cans full of rocks that are used as maracas, regular maracas.
La Hora Loca in the USA
Here in the USA, we have adopted La Hora Loca or Crazy Hour for our parties. In the USA we have combined all the traditions above and added a few different items. People try to make it as close as it's done in their country of origin, whether it's Venezuela, Colombia, Mexico, or Brazil. Usually, it's really close to the tradition. However, they are all a lot of un and add a great boost of energy to any event. Some American weddings have adopted it, passing out led foam sticks, led glasses, and a few other great props.
Crazy Hour Props
The Props can include anything from hats to maracas, LED foam sticks, large balloons, Crazy hats, fun hats, large hats, LED hats, Masquerades, LED Glasses, and whatever you can add to the fun atmosphere. Basically, if it's flashy and full of bling, it's appropriate for the party. The sky is the limit. Most items can be ordered from amazon, other can be bought locally.
La Hora Loca Music
The Music for the crazy hour will depend a little bit on the guest's nationality or background, but for the most part, it's a mix of line dances, the Cupid Shuffle the Wobble, the Copperhead Road, Soulja Boy, Cha Cha Slide, Caballo Dorado, El Carnavalito.
If it's an All-American Wedding, then it would be fun music like maybe The Conga Line to get started, then some YMCA Music, The Twist, KC, and The Sunshine, Celebration, The Twist, We are Family… Those classic songs that every age group loves to sing and dance to. As long as it's a fun song to gather around the dance floor and have fun, it's fair game.
Crazy Hour Add-Ons
Lately, The Crazy Hour has been very popular at Weddings, Quinceaneras, and Sweet 16. They bring out an LED Robot, People on Stilts, and even some Cabezones or Big Headed figures.
La Hora Loca Explosive Events
People GO CRAZY with this show.
I've interviewed Tere Explosive, with Explosive Events Houston. photographed above. The show was recorded LIVE and uploaded to Youtube. This video will answer just about any question you may have if you are looking to add La Hora Loca to your events.
The Video is completely in Spanish
Follow Elegante Entertainment
Youtube – https://rebrand.ly/vp78z
Facebook – https://rebrand.ly/m4z9t
Instagram: – https://rebrand.ly/htsw1
Website: – https://rebrand.ly/djinhouston
Email: – dj at fhpentertainment.com
Schedule a phone call or meeting!