It's always a great feeling to open up your email on a Monday morning and to read a review from your clients as they return from their wedding Honeymoon.
This one was no different, especially since I usually form really good friends with my clients during the entire planning process, and some just click better than others, there's lots of laughing during our meetings, lots of talking, lots of fun moments. Throw in there a few minutes of planning and that's how most meetings go…
And it's always bittersweet to get these because you know that for the most part, those couples will move on with their life and besides the occasional emails here and there, it moves on to a different relationship. The sweet part of it is hearing how much they enjoyed their wedding.
It's always great to read and hear that our hard work was enjoyed by our clients.
On March 26th, 2016 I was the DJ for Dante and Diomi at the Southwyck Country Club.
This was a very low-key wedding with people from all over the world, Mexico, Venezuela, and even a person that was there from Spain!! Everyone was a great part of the wedding, from the ceremony all throughout the wedding reception.
For their reception, they needed a Great DJ near Pearland TX, where their wedding was going to take place. Their requirements were they needed a Latino DJ that could cater to all different backgrounds.
Here is what Diomi Wrote to us in the email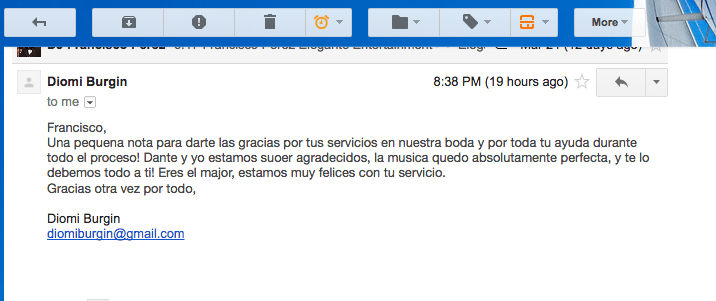 and a few moments later I received the email from Google letting me know I had a new Google Review which read:
Below is a quick video of how the wedding turned out. They had la hora loca venezolana…