It's Monday and I have been sitting at my computer for over an hour, answering emails from over the weekend, in this some from as far back as Wednesday, since we provided our awesome services at events on Thursday, Friday, Saturday and even Yesterday, Sunday April 10th.
One thing I like to schedule also is taking some time and writing for my clients, I feel that they, or you, get a better sense of who I ma by reading what I type.
Today I wanted to post some Quinceanera DJ Photos from a previous Quinceanera in Houston that I wrote a little bit about and even provided a few cell phone photos and video of the quinceanera.
In the weeks following that post I received an email from Leslie, the mother of the Quinceanera, and it went like this:
And a few moments later I received a notice from Google saying I got a new Review from Leslie.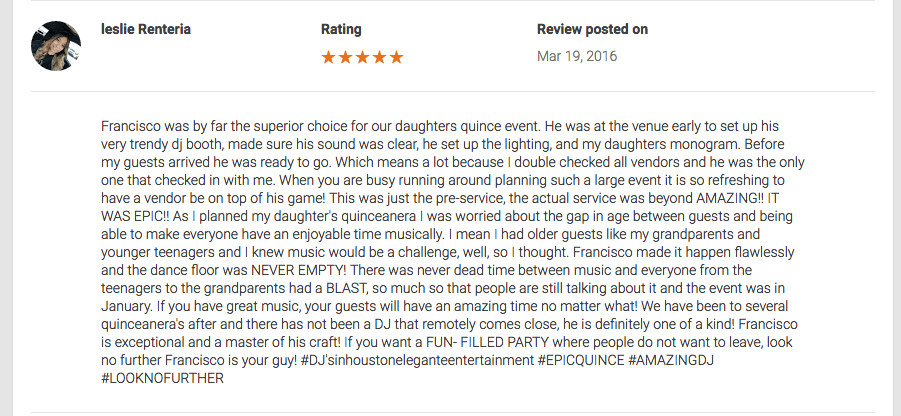 This just made my whole year!! It was a very beautiful feeling to read this. It made my eyes tear up and I am very grateful for the kind words. Only few people understand the work we put into an event.
It's not just showing up and playing music, it's a lot more than that. It's about understanding the parent's goals and taking giving them back to them as they wish.
I wanted to share some photos of this lovely night. (Photo Credit A&A Photography)
This was a really fun day for everyone involved, including us.