The Ultimate Guide on how to hire a Quinceanera DJ.
Are you looking for the best Houston Quinceanera DJ?
Hire the best Houston Quinceanera DJ near me.
Your Quinceañera is a very special day and maybe a day that you've been dreaming about. It probably started when you were a little girl. You remember attending your cousin, or young aunt's quince. Right? So your day should be special because this day marks the beginning of a new chapter in your life. You evolve from little girl to young woman.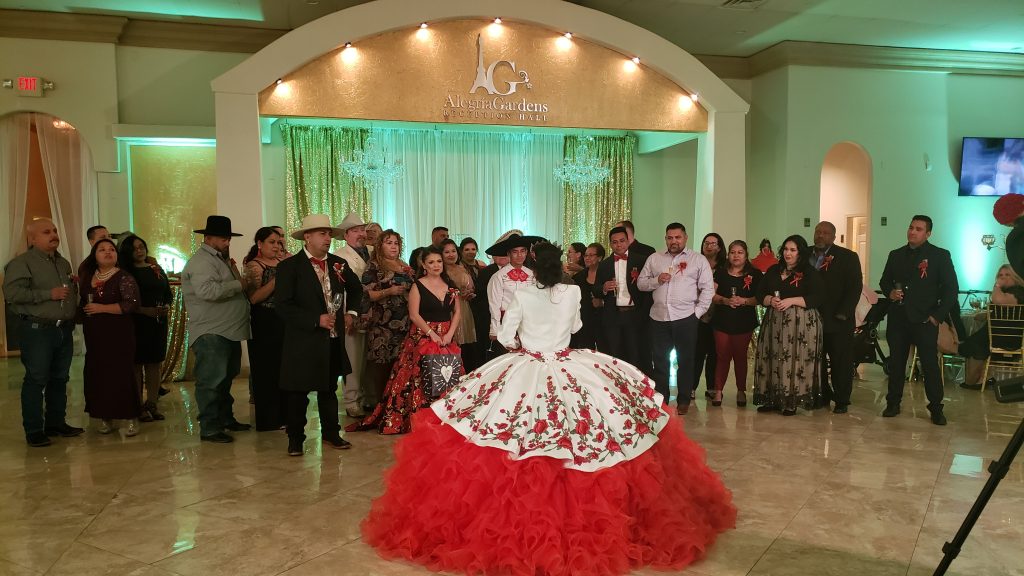 The Day of your Quince
On your special day, your Quinceanera DJ should want to help make sure that this day is everything that you ever dreamed of. One way of doing this is by providing you and your loved ones with high-quality, bilingual Quinceañera Disc Jockeys and DJ service. Another is by providing the perfect mix of music for your friends your age. In addition to that, you cant forget all the family and friends of your parents' age. They want to party as well.
During your Quinceañera reception, On the DJ will be there providing entertainment and making formal introductions throughout it all. Your reception will begin with the Grand Entrance and introduction of the Quinceañera (see video for example). Then will be next to the royal court, followed by the father/daughter waltz. Your royal court, of course, includes the Chambelanes, Damas, and the Chamberlain de Honor.
Special Quinceanera Dances
Firstly, the Quinceanera will dance a special song with her Father or Mother. The most important person in her life. The one who raised her from a young little baby. To stumbling toddler. The one who remembers the first day she said "mama" or "dada." Took her and watched her as she entered her first day of school. The realization that she will be going to middle school. That one who never left her side. That first dance should be with that person. They deserve it.
Hire a DJ that understands that. That has had a quinceanera himself or herself. And that understands the importance of the first dance. So that it can be shared over the mic with those who are there. This dance should be the highlight of the night.
The next special dance will be the dance between the Quinceañera and her Chamberlain. After the dance between the Quinceañera and her Chamberlain, the Quinceañera's court will join the one or two dances on the dance floor for a choreographed waltz.
After the waltz of the court, members of the Quinceañera's court will begin their surprise dance. Other special traditions of the Quinceañera reception include the changing of shoes, the ritual of the last doll, and the much-anticipated speech of the Quinceañera. Sometimes they do the Padrino's dance, the baile de las 15 Rosas dance, and more.
The Top Questions to ask a Quinceanera DJ
Take a look at this list of questions to ask your DJ to make sure he is the best fit. You don't have to ask all these questions. Choose the questions that best fit you. The idea is to find a DJ you like, a professional DJ, a DJ who understands your background, a DJ who will do everything possible to make your event fun and enjoyable for everyone.
Sounds simple, and you would assume that all DJs want that. But based on my 20 years of experience, that is not always the case.
Five Quick Questions to ask a DJ
What kind of sound or equipment will the DJ take to my event? Above all, Not only do you want it to sound loud and clear, but you also want to make sure they have a clean look, sharp presentation. If you have a large party, 300 guests, and over the DJ needs more equipment and larger speakers. The DJ might as well be screaming at your guests.
Does the DJ Know the music my family likes to listen to? For example, To hire the best DJ in Houston quinceaneras, or your quinceanera to be exact, the DJ must understand the music your family likes. For example, is your family from Mexico, El Salvador, Honduras, Guatemala, Texas (Tejanos), California, TexMex, Chicanos, Venezolanos, Colombianos, Cubanos… As a result, the DJ should know the right music for your friends and family.
How does the DJ sound and look? You want to know this for a few reasons. Firstly, this is the person who will be representing you in front of your friends and family. You want a DJ who sounds and looks professional and can be understood. Secondly, many companies don't send the DJ you spoke to, they will send you a stranger. You want to know how he looks and how he sounds on the microphone. This leads me to my next questions.
Will you be the DJ attending my event? Many companies send one person to do sales and then send a stranger to your event. Someone whom you've never met. Therefore, make sure you know 100% who the DJ will be on the day of your event.
Does the DJ have Quinceanera Reviews? Not wedding reviews. A wedding and a quinceanera may be similar, but the music played is different.
In conclusion, this is just a shortlist of questions to ask your quinceanera DJ. Add these questions with the naturally occurring ones that you will have. Consequently, you will have a much better idea if this is in fact the best DJ for your quinceanera.
Other Elegante Blog Posts on questions to ask a DJ
To get a better idea of other questions to ask here are a few other posts I've written on the subject over the years:
As you can see this topic comes up a lot and we get hundreds of inquiries a year on this topic so we must stay fresh!
The Best Houston Quinceanera DJ is Perfect for YOU!
Elegante Entertainment offers three exclusive Quinceanera DJ packages for you to choose from which include our Padrino Package, Madrina Package, and the Dream Quince Package. Whichever package you choose, you're guaranteed a good time and a day or evening full of wonderful memories.
Elegante offers a bilingual Quinceanera DJ at your service, state-of-the-art sound equipment, as well as complete setup and takedown. Planning your event has never been easier with our interactive-online planning forms, as well as our professional and helpful staff. Our desire is to make your entire event from beginning to end stress-free and fun.
Quinceanera Music
Playing the music into a device may seem simple enough, but in reality, it can be a bit complicated. The person operating the sound equipment must have several qualities:  knowledge of music, some engineering skills to connect so many cables and devices. They must also know how to troubleshoot any issues and even be able to liven up a party.
Therefore, in order to entertain the quinceañera and her guests, a DJ must use the latest equipment. Top-of-the-line audio and top-of-the-line upgrades. "People like the effect that can be created using intelligent lights, bubble panels, dancing on a cloud, and uplights," says Manuel Sotto, also known as DJ Sotto, who has livened up quinceañeras in southern California for 7 years. "You can also project 3-D images of figures that dance to the music."
Music to Play at Quinceaneras
Hiring the best DJ in Houston quinceaneras is essential because he has to know a wide, wider-than-the-earth variety of music. Ranging from Tejano to Norteno, to Cumbias, to new hip hop, classic hip hop, oldies, disco, big band, pop music, EDM, teen appropriate music, duranguense, Salsa, Merengue, Bachata… EVERYTHING
Not only does he have to know these genres, but he has to know when to play them! Playing the wrong song at the wrong time is like taking a fish out of water. Just like that fish, the crowd and ambiance will die if you lose the crowd with the wrong music selections.
Music is key to the party. The important songs, or special songs, are selected by the quinceanera and her family. But the DJ must fill in the rest of the night with great music. Music for dinner, low key, but fun ambient music is required.
Quinceanera Songs
Music for intermissions. The quinceanera usually has dead silence spots. Due to any number of reasons. Whether it's poor planning from the venue or the planner, the DJ has to fill that void with music or with crowd interactions. An experienced DJ will know what to do with that silence.
More upbeat crowds will require interaction. Maybe playing a game. Maybe having a contest for the centerpieces. something to fill in the time. The DJ should also have a backup mix for that time if the crowd is more laid back.
The Dancing is where the DJ Really shows his skills. Mixing Music is essential to a full dance floor at a quinceanera. Blending the songs in seamlessly is an art that not many DJs possess.
Seamless mixing, or Beat Mixing as we DJs call it, is where two songs are played back to back and the crowd cannot tell until they start singing the first verse of the second song. There are no gaps, no awkward changes of songs, smashing of beats (very disturbing to hear)… Just a seamless mix between songs.
A Houston Quienceaneara DJ should know the people from different areas of Mexico.
The DJ should also find out where the quince family is from. If they are from Mexico … What city and state? That should give the DJ an idea of what music is generally played there. People from Mexico City or EL DF listen to music completely different than people from Michoacan, or People from Nuevo Leon.
Although most music can be used for all these three examples, playing too much of the wrong music is a surefire way to lose the crowd.
The best DJ in Houston for quinceaneras should know the difference and should be able to name a few artists that are popular with the region the family is from.
By playing the correct music from the region, you cater directly to the older generations. And there is nothing more rewarding than an aunt or uncle coming to your DJ booth at the end of the night and saying. WE LOVED THE MUSIC!
Playin for the Friends of the Quinceanera.
That on top of the quince girl and her friends and parents coming over and saying thank you is like a perfect ending to a fun night!
Before your special day, The DJ will sit down and meet with you and your family during a professional meet and greet to discuss and thoroughly plan out every detail and aspect of your Quinceanera event. This allows for personalization and a customized plan of action for your event, ensuring that everything goes smoothly as planned. Our job is to make sure that your Quinceanera is everything you've ever dreamed of and more.
EXPERIENCE AND ETIQUETTE Houston QUINCEANERA DJ SERVICE
Elegante provides exceptionally professional Quinceañera DJ service. We are highly experienced and prepared to make sure your event flows as planned from beginning to end. If you're too busy to make sure your guests stay on schedule, that's what we're here for. Our staff is fully trained and ready to help.
The Elegante staff will arrive at your Quinceañera in proper attire and with professional etiquette. They're ready to take charge, but also follow instructions well and will work well with other vendors and professional staff that you may have on hand. To learn more about Elegante Entertainment's available Quinceañera DJ packages for your special day, contact On us today!
How to Contact your Houston Quinceanera Disc Jockey
Facebook: Facebook.com/HoustonWeddingDJs
Youtube: Youtube.com/Frank0p99
Instagram: https://www.instagram.com/fhperez77/
linkedin: https://www.linkedin.com/in/fhperez/
twitter: https://twitter.com/djinhouston
TikTok: @IamSimplyFrank
For Booking and to read all our DJ Reviews visit our main page.
DJs in Houston Elegante Entertainment
10326 Palestine St, Houston, TX 77029
(832) 465-1161
https://g.page/DJinHoustonEleganteEntertainment?share