Wedding Planning: Top Songs of 2007
Wedding Planning: Top Songs of 2007. Here is a list of the top requested songs of 2007 courtesy of Mobile Beat and DJ Intelligence.
NOTE: This article is from 2007, to get a new list of songs updated in 2021 please send us to visit our Top Wedding Songs of 2020 Page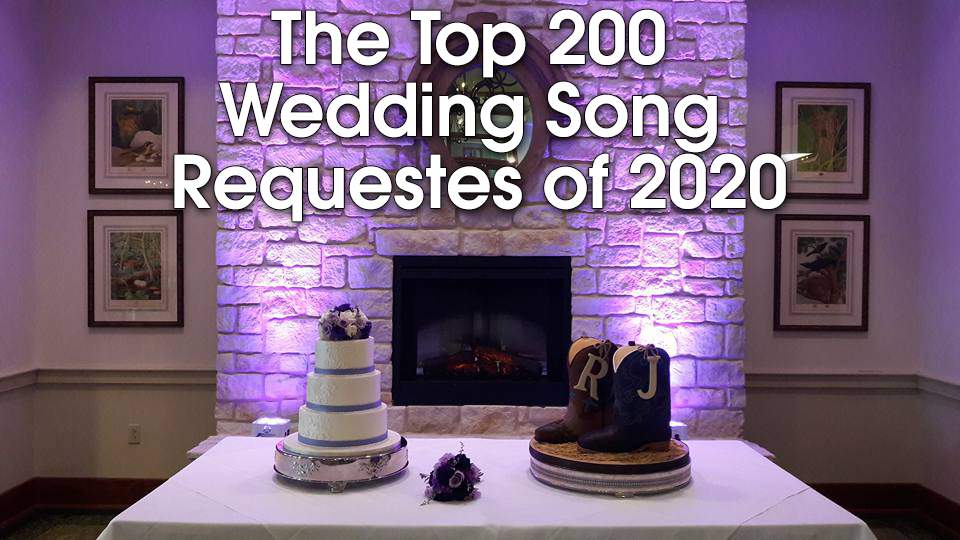 Having Trouble Deciding what songs to request at your wedding?
Mobile Beat is a magazine for Mobile Disc Jockeys and they organize a yearly conference in Las Vegas, Nevada.
DJ Intelligence is a service that a lot of DJs use to keep track of their customers. If you have seen the "Check availability" forms such as the one on DJs of Houston, then you know what I am talking about. There is a section in that long-form that allows you to request your favorite songs or the songs that you want to be played at your reception. Well, that list is saved to a central database, ran by DJ Intelligence, and at the end of the year, they created this list. So you know that these songs were requested at Professional DJ Companies by Brides and Grooms like you. Consider this the Top Wedding Songs 2007 as well as the Top Songs 2007.
| | | |
| --- | --- | --- |
| 1 | Ac/Dc | You Shook Me All Night Long |
| 2 | Timberlake, Justin | Sexyback |
| 3 | B-52's | Love Shack |
| 4 | Morrison, Van | Brown Eyed Girl |
| 5 | Def Leppard | Pour Some Sugar On Me |
| 6 | Abba | Dancing Queen |
| 7 | Lynyrd Skynyrd | Sweet Home Alabama |
| 8 | Sister Sledge | We Are Family |
| 9 | Clapton, Eric | Wonderful Tonight |
| | | |
| --- | --- | --- |
| 10 | Kool & The Gang | Celebration |
| 11 | Bon Jovi | Livin' On A Prayer |
| 12 | Commodores | Brick House |
| 13 | Diamond, Neil | Sweet Caroline (Good Times Never Seemed So Good) |
| 14 | Bee Gees | Stayin' Alive |
| 15 | Sir Mix-A-Lot | Baby Got Back |
| 16 | James, Etta | At Last |
| 17 | Beatles | Twist And Shout |
| 18 | Village People | Y.M.C.A. |
| 19 | Foundations | Build Me Up Buttercup |
| 20 | Lonestar | Amazed |
| 21 | Righteous Brothers | Unchained Melody |
| 22 | Temptations | My Girl |
| 23 | Wild Cherry | Play That Funky Music |
| 24 | Sinatra, Frank | The Way You Look Tonight |
| 25 | Rascal Flatts | Bless The Broken Road |
| 26 | Seger, Bob & The Silver Bullet Band | Old Time Rock & Roll |
| 27 | Brooks, Garth | Friends In Low Places |
| 28 | Armstrong, Louis | What A Wonderful World |
| 29 | Presley, Elvis | Can't Help Falling In Love |
| 30 | Lauper, Cyndi | Girls Just Want To Have Fun |
| 31 | Buffett, Jimmy | Margaritaville |
| 32 | Dexy's Midnight Runners | Come On Eileen |
| 33 | Loggins, Kenny | Footloose |
| 34 | Jackson, Michael | Billie Jean |
| 35 | Outkast | Hey Ya! |
| 36 | Vanilla Ice | Ice Ice Baby |
| 37 | Kc & The Sunshine Band | Get Down Tonight |
| 38 | Checker, Chubby | The Twist |
| 39 | Black Eyed Peas | Let's Get It Started |
| 40 | Romantics | What I Like About You |
| 41 | Prince | Kiss |
| 42 | Mcgraw, Tim With Faith Hill | It's Your Love |
| 43 | Shakira Feat. Wyclef Jean | Hips Don't Lie |
| 44 | Usher Feat. Ludacris & Lil' Jon | Yeah[radio Mix] |
| 45 | Franklin, Aretha | Respect |
| 46 | Journey | Don't Stop Believin' |
| 47 | Adams, Bryan | Summer Of '69 |
| 48 | Cheap Trick | I Want You To Want Me |
| 49 | Sinatra, Frank | Fly Me To The Moon |
| 50 | Gaynor, Gloria | I Will Survive |
| 51 | Queen | Crazy Little Thing Called Love |
| 52 | Gaye, Marvin | Let's Get It On |
| 53 | Jackson, Michael | Don't Stop 'Til You Get Enough |
| 54 | Dj Casper | Cha Cha Slide[radio Edit] |
| 55 | Green, Al | Let's Stay Together |
| 56 | Young M.C. | Bust A Move |
| 57 | House Of Pain | Jump Around |
| 58 | Sorta Crackers Band | Chicken Dance |
| 59 | Cole, Natalie With Nat King Cole | Unforgettable |
| 60 | Travolta, John & Olivia Newton-John | Grease Megamix |
| 61 | Cash, Johnny | Ring Of Fire |
| 62 | Earth, Wind & Fire | September |
| 63 | Violent Femmes | Blister In The Sun |
| 64 | Timberlake, Justin | Rock Your Body |
| 65 | Heartland | I Loved Her First |
| 66 | Journey | Faithfully |
| 67 | Ub40 | Red Red Wine |
| 68 | Adams, Bryan | (Everything I Do) I Do It For You |
| 69 | Grandmaster Slice | Electric Slide (Shall We Dance) '92[mr. Lee's Radio Remix] |
| 70 | Taylor, James | How Sweet It Is (To Be Loved By You) |
| 71 | Big & Rich | Save A Horse (Ride A Cowboy) |
| 72 | White, Barry | Can't Get Enough Of Your Love, Babe |
| 73 | Brooks & Dunn | Boot Scootin' Boogie |
| 74 | Springfield, Rick | Jessie's Girl |
| 75 | Tone Loc | Wild Thing |
| 76 | Gnarls Barkley | Crazy |
| 77 | Black Eyed Peas | My Humps |
| 78 | Los Del Rio | Macarena |
| 79 | Eagles | Hotel California |
| 80 | White, Barry | You're The First, The Last, My Everything |
| 81 | Martin, Dean | That's Amore |
| 82 | Aguilera, Lil' Kim, Mya & Pink, Christina | Lady Marmalade |
| 83 | 50 Cent | In Da Club |
| 84 | Nelly | Hot In Herre |
| 85 | Isley Brothers | Shout |
| 86 | Hot Chocolate | You Sexy Thing |
| 87 | Idol, Billy | White Wedding |
| 88 | Kc & The Sunshine Band | (Shake, Shake, Shake) Shake Your Booty |
| 89 | Mcgraw, Tim | My Best Friend |
| 90 | Furtado, Nelly Feat. Timbaland | Promiscuous[radio Edit] |
| 91 | Prince | 1999 |
| 92 | Jackson 5 | Abc |
| 93 | Dion | Runaround Sue |
| 94 | Madonna | Holiday |
| 95 | Weather Girls | It's Raining Men |
| 96 | Beyonce Feat. Jay-Z | Crazy In Love[album Version] |
| 97 | Aerosmith | Walk This Way |
| 98 | Jones, Norah | Come Away With Me[album Version] |
| 99 | Connick, Jr., Harry | It Had To Be You |
| 100 | Beach Boys | Kokomo |
| 101 | Tone Loc | Funky Cold Medina |
| 102 | Simon & Garfunkel | Cecilia |
| 103 | Aerosmith | I Don't Want To Miss A Thing |
| 104 | Strait, George | I Cross My Heart |
| 105 | Cash, Johnny | I Walk The Line |
| 106 | Queen | Another One Bites The Dust |
| 107 | Beatles | I Saw Her Standing There |
| 108 | Jackson, Michael | Thriller |
| 109 | Beatles | All You Need Is Love |
| 110 | Smith, Will | Gettin' Jiggy Wit It |
| 111 | Sade | By Your Side |
| 112 | West, Kanye Feat. Jamie Foxx | Gold Digger[radio Edit] |
| 113 | Sledge, Percy | When A Man Loves A Woman |
| 114 | Beastie Boys | Brass Monkey |
| 115 | Cherry Poppin' Daddies | Zoot Suit Riot |
| 116 | A-Ha | Take On Me |
| 117 | Fergie Feat. Ludacris | Glamorous |
| 118 | Deee-Lite | Groove Is In The Heart |
| 119 | Jet | Are You Gonna Be My Girl |
| 120 | Prince | Let's Go Crazy |
| 121 | Pink | Get The Party Started |
| 122 | Digital Underground | The Humpty Dance |
| 123 | Rednex | Cotton Eye Joe |
| 124 | Gap Band | You Dropped A Bomb On Me |
| 125 | U2 | Beautiful Day |
| 126 | Idol, Billy | Mony Mony |
| 127 | Morrison, Van | Moondance |
| 128 | Summer, Donna | Last Dance |
| 129 | James, Rick | Super Freak (Part 1) |
| 130 | Rascal Flatts | My Wish |
| 131 | Sinatra, Frank | New York, New York |
| 132 | Bee Gees | You Should Be Dancing |
| 133 | Gabriel, Peter | In Your Eyes |
| 134 | Soft Cell | Tainted Love |
| 135 | Orbison, Roy | Oh, Pretty Woman |
| 136 | Timberlake, Justin Feat. T.I. | My Love |
| 137 | Guns N' Roses | Sweet Child O' Mine |
| 138 | Bangles | Walk Like An Egyptian |
| 139 | Jackson, Alan & Jimmy Buffett | It's Five O'clock Somewhere |
| 140 | Checker, Chubby | Let's Twist Again |
| 141 | Savage Garden | Truly Madly Deeply |
| 142 | Sinatra, Frank | Come Fly With Me |
| 143 | Johnson, Jack | Better Together |
| 144 | Setzer Orchestra, Brian | Jump Jive An' Wail |
| 145 | Spears, Britney | Toxic |
| 146 | Presley, Elvis | All Shook Up |
| 147 | Timbaland Feat. Nelly Furtado And Justin Timberlake | Give It To Me[clean] |
| 148 | Madonna | Like A Prayer |
| 149 | Meat Loaf | Paradise By The Dashboard Light |
| 150 | Sean Paul | Temperature[album Version] |
| 151 | Journey | Open Arms |
| 152 | Akon Feat. Eminem | Smack That[clean] |
| 153 | Medley, Bill & Jennifer Warnes | (I've Had) The Time Of My Life |
| 154 | Paisley, Brad | She's Everything[radio Version Edit] |
| 155 | Temptations | Ain't Too Proud To Beg |
| 156 | Manilow, Barry | Copacabana (At The Copa) |
| 157 | Krauss, Alison | When You Say Nothing At All[radio Edit] |
| 158 | Beatles | In My Life |
| 159 | Gaye, Marvin | Sexual Healing |
| 160 | Wang Chung | Everybody Have Fun Tonight |
| 161 | Stefani, Gwen | Hollaback Girl |
| 162 | Brooks, Garth | The Dance |
| 163 | U2 | With Or Without You |
| 164 | Sinatra, Frank | I've Got You Under My Skin |
| 165 | Maroon 5 | She Will Be Loved |
| 166 | Fergie Feat. Will.I.Am | Fergalicious[radio Edit] |
| 167 | Rihanna Feat. Jay-Z | Umbrella |
| 168 | Abba | Take A Chance On Me |
| 169 | Fall Out Boy | Dance, Dance |
| 170 | Bee Gees | Night Fever |
| 171 | Jackson, Alan | Remember When |
| 172 | Clarkson, Kelly | A Moment Like This |
| 173 | Aguilera, Christina | Ain't No Other Man[radio Edit] |
| 174 | Madonna | Vogue |
| 175 | Stray Cats | Rock This Town |
| 176 | Chicago | You're The Inspiration |
| 177 | Joel, Billy | Just The Way You Are |
| 178 | Urban, Keith | Making Memories Of Us[radio Single Edit] |
| 179 | Lifehouse | You And Me |
| 180 | Dion, Celine | Because You Loved Me (Theme From "Up Close And Personal") |
| 181 | Pussycat Dolls | Don't Cha[radio Edit] |
| 182 | Rascal Flatts | I Melt |
| 183 | Black Eyed Peas | Pump It |
| 184 | Right Said Fred | I'm Too Sexy |
| 185 | Alabama | Mountain Music |
| 186 | 98 Degrees | I Do (Cherish You) |
| 187 | Fergie | London Bridge |
| 188 | Cascada | Everytime We Touch[radio Mix] |
| 189 | U2 | All I Want Is You |
| 190 | Stewart, Rod | Have I Told You Lately[unplugged] |
| 191 | Rascal Flatts | Life Is A Highway |
| 192 | Rihanna | S.O.S. (Rescue Me)[radio] |
| 193 | Ciara Feat. Missy Elliott | 1, 2 Step[main] |
| 194 | Salt-N-Pepa | Push It |
| 195 | K-Ci & Jojo | All My Life |
| 196 | Stefani, Gwen | The Sweet Escape[album Version] |
| 197 | Rihanna | Pon De Replay |
| 198 | Blunt, James | You're Beautiful |
| 199 | Four Tops | I Can't Help Myself (Sugar Pie, Honey Bunch) |
| 200 | Kelis | Milkshake |
Now that you know the Top Songs of 2007, here is an article with the Top Line Dance Songs in 2021