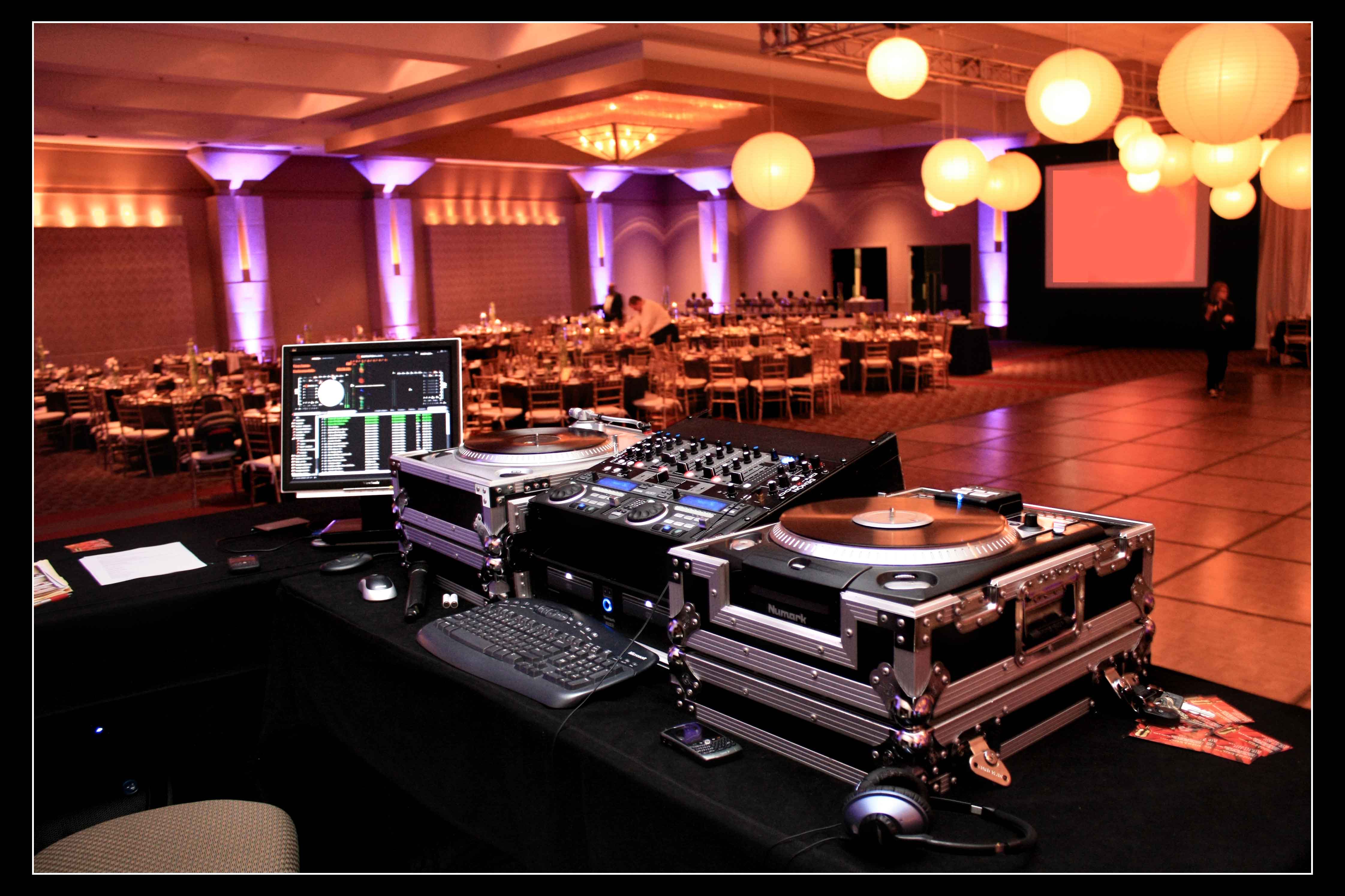 The Top Responsibilities of the DJ
Oh, yes, the Top Responsibilities of the DJ at your event. From a DJ in Houston.
I've been a DJ and Master of Ceremonies here in Houston for over 10 years now.  I started young and learned pretty much everything I needed to know about the DJ Profession on my own.
I remember the first Social Event that I did clearly.
It was a Sweet Fifteen, or a Quinceanera, and I imagine it was also the first time the parents of the Quinceanera had ever celebrated a Quinceanera of their own (as is often the case).
I was new to the business and they were new to the experience. I remember there being times that I was thinking to myself, wow I wonder who's responsibility was it to make sure that didn't come out the way it did; you know, to make it flow better or come out better. It certainly wasn't my responsibility, I'm the DJ… Right? I mean I had all the music they asked for and they provided me with a CD for all their dances. Why is it taking soo long to do the toast? What time will the cake need to be cut? What do you mean I have to do announcements, I'm Just the DJ I'm not supposed to do that!! Oh, you wanted the radio-edited version? Oops…
A few of these things you learn by trial and error, which is scary, especially since most people spend a whole lot of money on an event.
The things that you don't learn by trial and error, you have to learn by taking the role of leadership and being the person RESPONSIBLE for making sure that everything comes out flawless.
See, MOST DJs assume that their sole responsibility is to make sure that they have the correct music and make the correct announcements at the right times…
Are they right in assuming that?
I know a lot of my competition, or who try to classify themselves as my direct competition, are reading this and thinking, yes… that's all our responsibility… the rest is left up to the bride and groom, parents of the bride and groom, or quinceanera, or the coordinator if they had it in their budget to hire one.
Well, let's just assume that they did not hire a coordinator, as most events that I do DO NOT have one, or the parents of the bride and groom, or quinceanera, do not know the ins and outs of planning and running their event, as is OFTEN the case…
Then what?
As the DJ, do you just allow those awkward moments to happen? Like when you announce that the bride and groom are ready to do their first dance, and they are nowhere to be found? Do you announce the Father's daughter dance and Dad is in the Restroom? SOMEBODY SHOULD HAVE LET HIM KNOW… right?
Well, as I stated before, some things you learn by trial and error, and others you have to take the RESPONSIBILITY ahead of time to make sure that those awkward moments do not happen. Responsibilities of the DJ.
What if just before you announced the bride and groom's first dance, you went up and told them, in these exact words, or similar words…
We are just about to do your first dance, I need you to stand next to the dance floor, and as soon as this song is over, I am going to get everyone's attention and announce your first dance…
As soon as, you get the bride and groom next to the dance floor, what if you went one step further and let the father of the bride and mother of the groom know that as soon as the bride and groom are done with their dance, that you, as the DJ, would like for them to be standing next to the dance floor because their special dance with their daughter or son is coming up…
Would you not avoid that void, that awkwardness, that moment where everyone is saying, oh… he's in the restroom…
Even if there is a coordinator present, who's job is it to make sure you don't announce at the wrong time?
The way I see it, it falls under the entertainer's responsibility that HE does not look bad.
Also, if you speak Spanish, I have a video, recorded LIVE, where I go over How to Hire a Bilingual DJ in Houston
So here are my top 10 Responsibilities as the DJ:
Make Sure that he has the correct version of the songs for the Traditional Dances, Cake Cutting, Bouquet & Garter Toss, Grand Introductions, and any other highlighted events. Â  And that he has them in order on his computer or burned off in order on a CD.
Learn all the names of the people that he has to introduce. There nothing worse than having your name mispronounced or said unclear.
Get EVERYTHING prepared in advance! Learn the Itinerary so that you can make sure that you stay on time.
Look ahead of what the worst-case scenario is, and do everything possible to avoid it. The example of getting the bride and groom near the dance floor, or back at their seats is a perfect example. What about the cake cutting, toasting, bouquet and garter toss, etc. What can you as the DJ do to make sure the worst-case scenario does not happen.
Have an Introductory Speech to welcome guests and a Farewell Speech to wish the guests and guests of honor farewell.
Have Radio Edited Versions of all the popular and top hits.
Have a clean, presentable area. Hide all cables, get rid of cluttered mess, etc.
Love your Clients, Do everything possible to ensure that the bride and groom or the quinceanera has the most amazing time of their life. This may seem like it should not belong on this list, but how can you care about your client, and then go off to other DJs and call them Bridezillas and ungrateful… I will never understand that. If a person is ungrateful or pissed off, it's because they are not getting the service they paid for.
Have a Positive attitude, 100% of the time, even when nobody is looking. (Or you think nobody is looking)
Have fun, enjoy yourself, how can your client's guests have fun if you are sitting down the whole night, and not dancing or cracking a smile at all?
So these are the ten Responsibilities of the DJ I would say, that you as a DJ, or Entertainer should assume, always.
As you can tell, most of them have nothing to do with music. Music is the easiest part of the Job, In my opinion. Mixing Music does take some practice and knowledge, but nothing will kill the party more than guests, feeling awkward, uncomfortable, or even that they don't know what's going on. Not Bad Mixing, Not bad music selection (in the sense of going from one genre to the next, inappropriately),  Not playing the music too low, Etc.
And BY GOD if you are going to make announcements over the microphone, make sure that everyone can hear you and understand you. Some DJs have this muffled voice that nobody can understand. It sounds as if their equipment has static or their microphone is malfunctioning. Or buy a name-brand microphone that works well.
So if you are a DJ and would like to improve your events, these are some guidelines to follow that will take your performance to a whole other level. If you are a bride looking to book a DJ, then now you have a slight idea of what to expect from a GOOD DJ that will make sure everything, and I do mean EVERYTHING, not just the things the DJ thinks are important. flows smoothly. Responsibilities of the DJ
Happy Planning!
|o| #iamsimplyfrank |o|
Facebook Page: HoustonWeddingDJs
Instagram: fhperez77
LinkedIn: DJinHouston/fhperez