What are the Top Quinceanera songs?
I get a lot of traffic to this website from the search engines for people that are looking for some ideas for their Quinces. Since there is not a lot of information out there on suggestions for quinceanera dances for the Quinceanera, I will try to list a few of my favorites.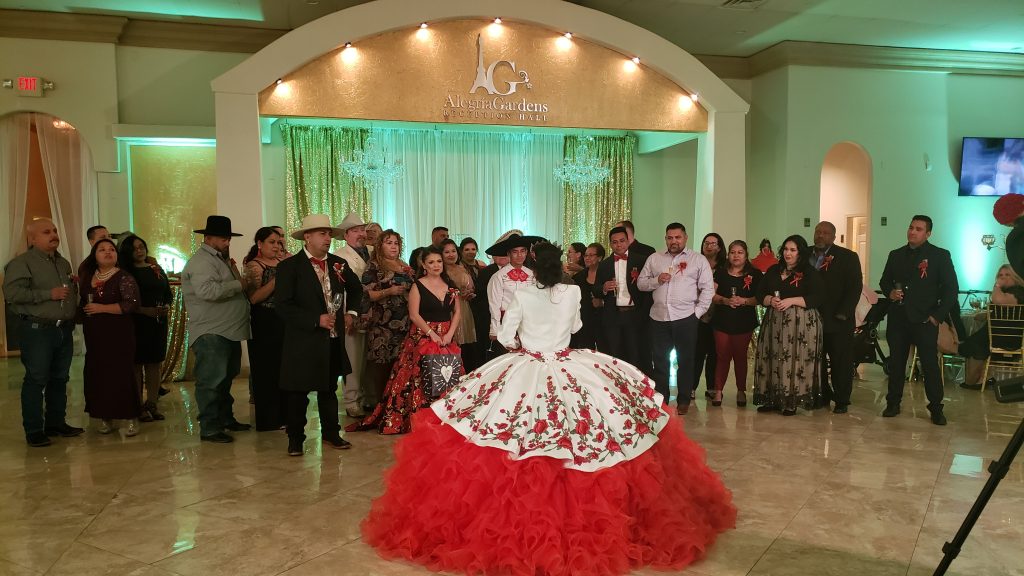 Quinceanera Dance Songs for the Chambelanes and Damas.
Outkast – I Like the Way You Move
Amber – This Is Your Night
Duff Punk – One More Time
Debbie Deb – When I Hear Music
Johnny O – Fantasy Girl
Kenny G – Sentimental
Richard Clayderman – La Mer
Raul D' Blassio – Melissa
Jennifer Lopez – Waiting for Tonight
RuPaul – Snapshot
Richard Clayderman – Balada Para Adelina
Grand Entrance of the Quinceanera Songs
Quinceanera (With Lyrics and Instrumental)
Moments in Love
Cancion a Papa
Bosson – One in a Million
Jill Subole – Supermodel
Jennifer Lopez – I'm Coming Out
Beauty and the Beast (Instrumental)
Raul D' Blassio – Corazon de Nino
Pretty Woman
Cinderella – Ten Minutes
Raul D' Blassio – Piano
Mariah Carey – Butterfly
Disney Theme Songs
Aladin
Sleeping Beauty
Cinderella
Beauty and the Beast
The Little Mermaid
Anastasia
Favorite Quinceanera Waltz
Sleeping Beauty Waltz
Cinderella Waltz
The Blue Danube Waltz (El Danube Azul)
Roses From the South Waltz
Vienna Waltz
Tiempo de Valz
Summer Place Waltz
Valz de la Quinceañera
Emperor Waltz (Valz del Emperador)
Vals Fascination
Voices of Spring
Vals de las Mariposas
Entrance for Fathers and/or Brothers
Natalie Cole – Unforgettable
Rod Stewart – Have I told you lately that I Love You
Kenny Rogers – Through the Years
Alvaro Torres – Chiquita Mia
Mariah Carey – Hero
The Temptations – My Girl
Frank Sinatra – The Way You Look Tonight
Cline Dion – Because You Loved Me
Elton John – Blessed
Mark Anthony – My Baby You
God Must Have Spent a Little More Time on You
Julio Iglesias- De Nina a Mujer
Bette Middler – The Wind Beneath My Wings
Christina Aguilera – I turn to You
Paloma San Basilio – Gracias a Ti
Pimpinela – Hermano
Bob Carlisle – Butterfly Kisses
Besos de Mariposa
Tomas de San Julian – Mi Nina Bonita
Gloria Estefan – Milagro
Jose Feliciano – Nina
Christina Aguilera – Por Siempre Tu
Celine Dion – Porqu Me Amaste
Quinceanera Entrance Songs Instrumental
Beyonce – Halo (Instrumental)
Richard Clayderman – Balada Para Adelina
Frank Pourcel – Blue Danube
Thalia – Quinceanera (With Lyrics and Instrumental)
Christina Perri – A Thousand Years (Piano/Cello Cover)
Again this list comes from the Quinceanera and Bride Magazine Website. They have a lot of good suggestions. If you want to hear the songs, go over to Itunes and Search their online store and you can hear a 30-second clip of the song to see if you like it. Also, you can go over to YouTube.com and see if they have it there.
The Top Line Dance Songs for Quinceaneras and Weddings
As you know, quinceaneras also are made up of fun dance songs during the Party. Everyone loves to have fun with line dances. As a result, we have come up with a list of the top line dance songs in 2021. Use this list, to help you decide which of these line dances songs are best for your upcoming quinceanera celebration, and give that list to your DJ so that he is prepared. Not all DJs have or play all of these line dance songs. Make sure they are prepared for your quinceanera dance.
What if I hired a Choreographer for my Quinceanera?
The choreographer will make your life easier. If you invest in a good choreographer, like our friend, Rumba Tony, your event will be handled from a-z when it comes to picking all the quinceanera dances. The choreographer will be there for you, from suggesting the right music to coming up with a creative choreography for your event. 
Hope this helps.
Happy Planning!
—
Francisco H. Perez
Elegante Entertainment
10326 Palestine St, Houston, TX 77029
(832) 465-1161
If you're looking for a Quinceanera DJ here in Houston Texas, feel free to email me at [email protected]