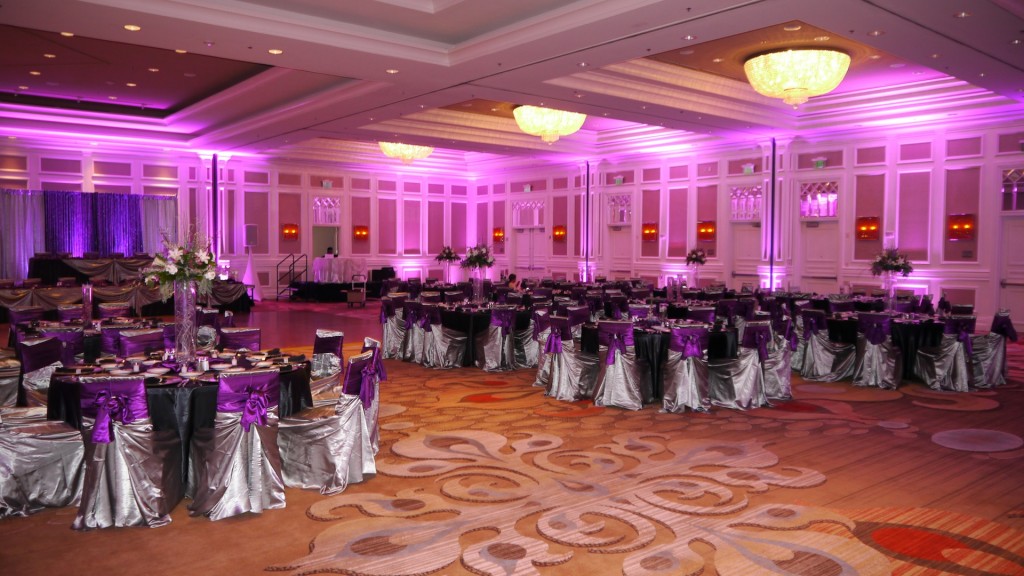 Wedding Up Lights in Houston
The in thing for 2009.
Over the past few years, brides have become more informed, in great part thanks to the internet and technology.
—————————————————————————————-
Interested in Renting Wedding Up Lights in Houston ???
—————————————————————————————-
Gone are the days of glazy, smelly fog filling up the air so that the the lighting effects can be easily spectacular, of course at the expense of elegance. Don't get me wrong, I love the feel of fog and special lighting effects, but not at a elegant wedding or corporate party. I would leave that for the clubs or if you really want an all out party wedding where elegance and formalities are not as important.
For the most part, brides want their special day to be elegant, formal and breathable.
Since DJ's cannot really sell their very-high-end specail-intelligent-lighting-set-up as easily these days, technology has brought us…
Up Lights, or Decor Lights, or Ambient Lighting, or sometimes referred to as Architectural Lighting…
What is Up Lighting? It is, taking a special light fixture (called a Par Can), flipping it upside down, placing it against a wall or column, and getting a beautiful ray of light against that wall or column. See the pictures below.
Up Lighting Pricing and Information
The ones easily and cheaply available can run anywhere from $8 to $10 dollars to rent or $20-$40 to own. They use a light bulb that outputs 300 – 1,000 watts of light. The downside; the light gets hot, PIPING hot; It's not 'going green' friendly. How hot do they get? You would not want any small children or anyone for that matter around them or close to them as they will get burned if they touch the open bulb. Think of how hot a normal 100 watt light bulb gets, now multiply it by 10!!!
If you are interested in these lights and know they will not be anywhere where kids my get burned, a good source for these style of lights, here in Houston, is Bright Star Productions.
Up Lighting at Elegante Entertainment
We've decided to adopt the new technology and go for the much safer, more energy efficient LED up Lights. They consume Less Power (Environmentally Greener), create little to no heat (you can touch them without worrying about getting burned), and they can be adjusted to match any color you may want.
The same light creating the blue green against the wall (above pictures), created the pink. Plus, you could also have them perform your light show when the dancing starts… Isn't that neat? So they are dual purpose: Dinner Ambient and Dancing Ambient creating lights..
Of course, since these are newer and a lot more expensive to own, they come out a little more to rent. Most places allow you to rent the lights and you can install them yourself or for a fee they can install them for you. You can expect to pay anywhere from $40-$80 Per LED Up Light.
Elegante Entertainment's Up Light Offer
We are offering LED Up Lights for your event at $35 per can, plus installation charges. However, if you use our DJ service as well as the up lights, the installation charges will be waived. So you get a low priced LED Up Light plus free installation if you use our DJ Service. Which makes sense, why charge you for installation if we are already going to be setting up 1-2 hours before your event.
Combine that with this month's 12% Discount, and you have a well lit, well entertained wedding reception, at the lowest price in town!!!
Visit our DJ in Houston Website and fill out our quick information request form.
—————————————————————————————-
Interested in Renting Our LED Uplights ???
—————————————————————————————-
Happy planning!
—
|o| Simply Frank |o|
Professional Bilingual Wedding DJ in Houston